Chapter 169 (第169話, Chapter 169) of Yoko Kamio's Boys Over Flowers is the first of the "Couple Arc." The chapter was published in November 1999 in the manga magazine, Margaret.[1] It was also included in the twenty-sixth volume of the series and followed by chapter one hundred and seventy.
Tsukasa Domyoji straightens out the situation with the police. Next, Tsukushi Makino visits Amon Kunisawa to explain herself. He calls Kaede Domyoji's secretary to say he is dating Tsukushi, buying her and Tsukasa some time.
Plot
In jail, Tsukushi Makino thinks over her actions and realizes "At that moment, my heart and body were one for the first time." Eventually an officer escorts her out of the cell. She overhears Tsukasa Domyoji yelling at the officers for issuing a warrant for Tsukushi's arrest when he had only asked for her to be found. Now outside, Tsukushi chides him for using the police. He reveals that he was "desperate" since he had been looking for her for over a day. Touched, Tsukushi thanks him for looking for her.
Amon Kunisawa hears Tsukushi and Tsukasa arguing from the street. She wants Tsukasa to wait for her outside, though he is against it. Tsukushi grabs his hand and says "I swear I'll come back here." Tsukasa blushes a little, thinking "She doesn't play fair." Amon opens his door before she can ring the bell. He tells her "None of your problems have been resolved," followed by a question "He's really that great of a guy?" Tsukushi explains that she has felt "broken." Now, she says "I like myself a lot better now."
After hearing her out, Amon calls Kaede Domyoji's secretary to report that he and Tsukushi are dating, buying her and Tsukasa some time. Before she leaves, he asks "Is there a love that never fades?" She answers "Maybe it's the not knowing that makes it fun." Tsukushi returns to Tsukasa and mentions going to eat. Tsukasa then hugs her and confesses "I was scared you wouldn't come back." Tsukushi hugs him back, while thinking "For the first time, I felt that I wanted to make someone else happy."
Character appearances
Notes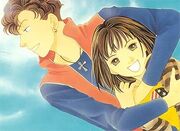 In Margaret, the chapter was released with a two-page color spread. It depicts Tsukushi and Tsukasa hugging while smiling. The illustration was later republished in volume fourteen of the complete edition.[2]
Adaptations
References
See also