Chapter 168 (第168話, Chapter 168) is an installment of the manga, Boys Over Flowers. It was published in Margaret No.22 on October 20, 1999.[1] The chapter was also the first collected in the series' twenty-sixth volume. It was followed by chapter one hundred and sixty-nine the next month.
Tsukasa Domyoji begs Tsukushi Makino to choose him. She silently gets onto a bus with Amon Kunisawa, but stops it when she sees Tsukasa running after her. Before the couple can be reunited, Tsukushi is arrested by the police.
Plot
Standing at the bus stop with Amon Kunisawa, Tsukushi Makino is surprised when she looks up to see Tsukasa Domyoji. He first begs her not to go, before saying "I don't want anyone but you." Amon calls him a "kid" and questions if he has ever thought of "[Tsukushi's] happiness." In response, Tsukasa declares to Tsukushi "I will make you happy!" Then the bus arrives and Amon encourages Tsukushi to board it with him. She remembers Kazuya Aoike and Yuki Matsuoka, and gets on the bus.
Tsukasa starts chasing after the bus while shouting Tsukushi's name. Shaking and crying, she silently urges the bus to go faster so she can does not have to hear his voice. Tsukushi looks up for a second and sees Tsukasa still running. She feels as if "[her] heart is being torn apart" and thinks back to when she met Tsukasa. Exhausted, Tsukasa finally collapses on the street. A group of elementary school students walk around him. He then looks up to see Tsukushi, who stopped the bus to go after Tsukasa.
Tsukushi scolds Tsukasa for sitting in the street without thinking of others. She then starts crying harder as she calls him "stupid." Relief washing over his face, Tsukasa stands up and reaches out to Tsukushi. However, before they can be reunited, a police officer apprehends Tsukushi. Tsukasa attempts to explain the situation and then begins using his fists. Officers subdue him for interfering. As she is being taken away, Tsukushi tells Tsukasa "Come and get me." He then blushes as she says "I've made up my mind."
Character appearances
Notes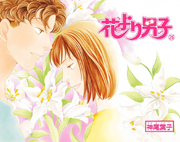 Adaptations
References
See also