Shigeru: "Your double's making a move on her, and there's the problem of Kazuya's and Yuki's families. Boy, you sure have a lot of obstacles."
Tsukasa: "I don't care about them. I'm not going to worry about that stuff. I don't give a damn what happens to who. It doesn't matter who she loves. I'll make her mine."
The one hundred and sixty-fifth chapter (第165話, one hundred and sixty-fifth chapter) of Boys Over Flowers by Yoko Kamio was originally published on September 5, 1999 in Margaret No.19.[1] The chapter was later collected in volume twenty-five of the series. It was followed by chapter one hundred and sixty-six two weeks later on September 20.
Amon Kunisawa forcibly kisses Tsukushi Makino, causing her to run away immediately. The next day, she sees Tsukasa Domyoji and Shigeru Okawahara together. He reveals to Shigeru that he has decided to continue pursuing Tsukushi.
Plot
Amon Kunisawa lets go of Tsukushi Makino. As she quickly gets up, he asks "You were thinking about him now, weren't you?" She tells him "I didn't come here so you could do that." Amon then pins her to the wall, making it clear to her that he does not want a platonic relationship. She runs to the door, saying "I won't see you again." Amon grabs her arm and then kisses her. At home, Tsukushi walks by her mother without saying anything and heads straight to her room, where she starts crying.
At Rui Hanazawa's house, Tsukasa Domyoji is annoying his friend by turning off the TV. Rui eventually hits the nail by asking "You can't give her up yet?" Annoyed, Tsukasa brings up Shizuka Todo. Rui says "I don't think that forcing yourself on a person is love." Tsukasa says he is wrong and that "I want to see her smiling face, and when she cries, I want to hug her." Rui then states "There was a time when I thought she loved you too, but..." Tsukasa decides to leave, but turns around to say "I've made up my mind."
The next morning, Tsukushi gives Shigeru Okawahara the rent. She shouts "I love you" as Tsukushi is leaving. She smiles and says "I love you too." At the cross walk, she turns around and spots Tsukasa meeting Shigeru. He tells Shigeru "Find yourself a nice guy" since he still loves Tsukushi. Seeing Tsukasa smile, Tsukushi walks away thinking they will be happy together. Shigeru reminds Tsukasa of his obstacles. He replies "I'm not going to worry about that stuff" and then with determination "I'll make her mine."
Character appearances
Notes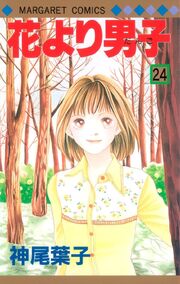 The illustration that accompanied this chapter in Margaret was later used on the cover for volume twenty-four. It was originally a two-page spread that was split for the volume version, having Tsukushi on the front and Tsukasa on the back.[2]
Adaptations
References
See also