Chapter 157 (第157話, Chapter 157) of the manga, Boys Over Flowers by Yoko Kamio, was published on April 5, 1999 in Margaret No.9. The chapter was followed by one hundred and fifty-eighth installment later the same month. It was also included in the series' twenty-fourth volume.
Tsukasa Domyoji asks his sister, Tsubaki, about their cousin Kiyonaga. She remembers him, but has no idea of his whereabouts. Meanwhile, Tsukushi Makino sees a new side of Kiyonaga and starts to think he may not be a bad person.
Plot
Tsukasa Domyoji is behaving like a "hungry lion," being determined to meet Kiyonaga face-to-face. Shigeru Okawahara insists that she and the others will investigate. She then teases him that he probably wants to tell Kiyonaga to stay away from Tsukushi Makino. Akira Mimasaka, meanwhile, tells Sakurako Sanjo that Tsukasa now has a "complex." Since he and Tsukushi broke up because he is "filthy rich," he would not be happy to see her get together with someone "from the same world."
They all go to talk to Tsubaki Domyoji about Kiyonaga, but she does not know his location. She calls him a "poor thing" because of what he has been through, which annoys Tsukasa who calls him "sneaky and cowardly." Tsubaki, however, feels "If Tsukushi chooses Kiyonaga, it would be the right choice." She then tells Tsukasa that he has "been acting like a spoiled rich boy." Using a metaphor, she advises to stop attacking from the outer moat and face the chatelain directly. Tsukasa asks "What's a chatelain?"
Kiyonaga stops by Tsukushi's place for his shoes. She informs him about Tsukasa's determination to meet him. As he leaves, Kiyonaga gives Tsukushi a flower shaped like small lanterns and says "You said the other day that your future looked dark." She laughs, thinking that he is not "such an awful guy." Shigeru, meanwhile complains about Tsukasa not letting her investigate. She and Sakurako then run into the guys from the group date, who reveal that they were paid by Kiyonaga and did not know him before that.
Character appearances
Notes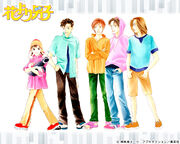 In Margaret, the chapter was included with a color illustration of Tsukushi and the F4.[2] It is the second picture to show Tsukushi with a penguin.
Tsukasa breaks the fourth wall saying to his sister "It's been so long since you've appeared, you must be going senile." Tsubaki had not appeared since chapter one hundred and forty-six which was published in September 1998.
Adaptations
References
See also