"I love you, Tsukasa. I almost said it out loud. I would ruin my friends' families and throw away my will and my pride. That's what it's like to love someone. It's being unable to suppress your feelings, even if it means sacrificing everything."
Chapter 153 (第153話, Chapter 153) is the final chapter included in the twenty-third volume of Yoko Kamio's Boys Over Flowers. The chapter was published on February 5, 1999 in the manga magazine, Margaret.[1] It was followed by the series' one hundred and fifty-fourth chapter on February 20.
Tsukushi Makino tells Tsukasa Domyoji about her meeting his cousin. He thinks she is simply trying to avoid talking. After saying what he wanted to say, she returns a necklace he gave her. He promptly throws it into the river.
Plot
Tsukushi Makino points at Kiyonaga, who is standing outside. When Tsukasa Domyoji turns around, Kiyonaga has disappeared. Confused, Tsukushi says "He really was there. Your cousin." Tsukasa is unconvinced and instead questions "If you want to go home, why don't you just say so?" He then reminds her of her tendency to "change the subject, or go into hiding" whenever he wants to "discuss something important." Tsukushi insists that she is not lying, revealing that she met Kiyonaga on a group date earlier.
Tsukasa quickly walks out of the restaurant. Tsukushi follows after him and promises to hear him out. He stops walking when they near a bridge. Tsukasa starts talking "I envy you girls. You just break it off and move on to a group date." Tsukushi realizes that she has hurt Tsukasa. He then tells her "That guy who's lying about being my cousin. You two should get along well." Tsukushi starts to recall the night they broke up, causing her to cry. Tsukasa tells her to stop since "Even if you cry, there's nothing I can do for you."
Finally, Tsukasa tells her to "act natural" from now on instead of running from him like that morning. Before he walks off, Tsukushi remembers to return the necklace he gave her. Tsukasa looks at it and then throws it into the river. To herself, Tsukushi says "I love Tsukasa" and that she almost said it aloud. She then goes into the river to look for the necklace. From the bridge, Kiyonaga teases her before he goes into the water himself. He quickly finds the necklace and hands it to Tsukushi, who then collapses.
Character appearances
Notes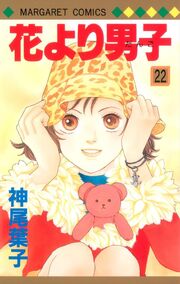 The chapter was originally published in Margaret No.5 of 1999 with a color image.[2] It was subsequently used on the cover of volume twenty-two.
Adaptations
References
See also