"I mustn't forget that promise. I will never have anything further to do with the Domyoji family."
The one hundred and fiftieth chapter (第150話, one hundred and fiftieth chapter) of the manga, Boys Over Flowers by Yoko Kamio, was first released on December 5, 1998 in Margaret.[1] It was included in the twenty-third volume of the series. The chapter was followed by one hundred and fifty-first entry on December 20.
Settling into their new lives, Tsukushi Makino resolves to get a part-time job to help her family. At school, she avoids coming face-to-face with Tsukasa Domyoji. Sakurako Sanjo later drags her and the other girls on a group date.
Plot
Tsukushi Makino wakes up to find her parents have set up a table in the middle of the kitchen. Their reason being "The place is so big we feel uncomfortable." The family sits down to breakfast. Susumu Makino starts talking about Tsukasa Domyoji which puts Tsukushi in a snappy mood. While getting dressed, she reminds herself to have nothing to do with the Domyoji family. Susumu walks in and asks if he will be able to attend high school, considering their family's situation. She assures him that he will.
Arriving at Eitoku Academy, Tsukushi is greeted by Sakurako Sanjo, who then points out the F4. Tsukushi quickly disappears, but returns briefly for her shoe. Sakurako confronts Tsukushi about avoiding Tsukasa, before asking if she is free after school. Tsukushi has to find a job, leading Sakurako to claim that she knows of a well paying one. Meanwhile, Tsukasa voices his annoyance about Tsukushi. Rui Hanazawa tells him to "give up on her" and that he invited him to village to have a "proper parting" with Tsukushi.
After school, Tsukushi accompanies Sakurako to meet Shigeru Okawahara and Yuki Matsuoka. Sakurako and Shigeru have arranged group dates with college students. Tsukushi is enticed to stay at the mention of the job again. The first set of boys arrive, which Sakurako immediately rejects. Several more sets follow, but none interest the girls. A last set of good-looking boys arrive. They call over their friend Kiyonaga, who says "Group date? I'd prefer a group grope." The girls are shocked since he looks like Tsukasa.
Character appearances
Notes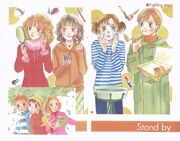 The chapter was originally included in Margaret No.1 of December 1998 with a two-page illustration. It is rare image, depicting Tsukushi with Yuki, Shigeru, and Sakurako.[2]
Haruo mentions the bubble bursting, a reference to an economic bubble in Japan from 1986 to 1991. This lead to the "Lost Decade," during which much of Boys Over Flowers was written.
Adaptations
References
See also