Chapter 147 (第147話, Chapter 147) is the first chapter collected into Boys Over Flowers' twenty-third volume. It was released in Margaret No.22 on October 20, 1998.[1] The chapter was followed by the series' one hundred and forty-eighth installment on November 5.
Tsukasa Domyoji and Rui Hanazawa arrive at the fishing village the Makinos' are living in. Their debts are paid off by Tsukasa. Later, Matsutaro Yoshimatsu decides to have an impromptu going-away party for Tsukushi Makino.
Plot
Tsukushi Makino comes face-to-face with Tsukasa Domyoji when he arrives at the fishing village. He is accosted by the Makinos' landlady, who requests three hundred thousand yen. Tsukushi tries to interrupt, but Tsukasa stops her. He easily give the lady two hundred and fifty thousand yen and borrows another fifty thousand from Rui Hanazawa. Later, the villagers have changed their tune. They treat Chieko and Haruo Makino nicely while also asking for them to introduce their daughters to Rui.
That evening, Rui asks Tsukushi if she has packed yet. She still feels dazed about everything that happened and promises to pay him back. He tells her to thank Tsukasa instead. Rui calls him over, which makes Tsukushi nervous. At that moment, Matsutaro Yoshimatsu runs up excitedly. He quickly introduces himself to Rui and Tsukasa. While talking to Tsukasa, Matsutaro says "You know, all this time, Tsukune's been..." Tsukushi hits him to stop him from saying anything embarrassing.
Matsutaro declares "Let's have a farewell party for Tsukune!!" She then finds herself sitting next to Tsukasa at the beach. She promises to pay him back, which he declines saying it was her "salary." Looking at him, Tsukushi thinks of their last night together. Tsukasa then asks if she is returning to Tokyo, to which she answers "In time." He becomes angry, voicing how worried he was when she disappeared. Tsukasa seems to be aiming to hit her, but instead pats her cheek and says "Just come on back."
Character appearances
Notes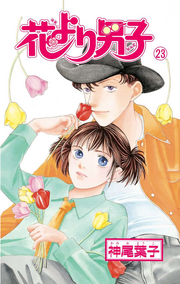 Adaptations
References
See also