Chapter 145 (第145話, Chapter 145) of Yoko Kamio's Boys Over Flowers was published in Margaret No.19 on September 5, 1998.[1] It was followed by chapter one hundred and forty-six two weeks later on September 20. The chapter was collected into the series' twenty-second volume.
Sojiro Nishikado remains angry with Tsukasa Domyoji after their fight. Meanwhile, Tsukushi Makino becomes close friends with coworker, Matsutaro Yoshimatsu. The suspicious villagers causes troubles for her family.
Plot
Covered in bandages from his tussle with Tsukasa Domyoji, Sojiro Nishikado yells "This time, I'm not letting him get off so easily." Akira Mimasaka tells him to "calm down," to which he replies "You can say that after seeing my face." Rui Hanazawa laughs and says "I wish I'd seen it." Sojiro then declares "I give up on him." They respond "I think we all gave up on him a long time ago." Meanwhile, Tsukushi Makino hands her pay check to her mother before leaving. The Makinos' landlady approaches Tsukushi's mother.
At work, Tsukushi asks Matsutaro Yoshimatsu "Are you from here?" He reveals that he came to the village with his girlfriend, whom left after they fought. Matsutaro has been waiting for her to return. Some villagers see them chatting and coldly ignore them. After work, Matsutaro brings Tsukushi to his boardinghouse. In his room, he shows her an art piece he is working on. Tsukushi is clueless about art, but has a new-found respect for him. He then reveals that he is saving up to study abroad in Italy.
Matsutaro asks Tsukushi about her dreams. She tells him that she only wishes for her family to live "happily." He then cautiously says "Isn't it about time you went back?," explaining that she will not find her happiness there. Tsukushi returns home, where her anxious mother is waiting while the villagers glare at them. She begs Tsukushi to explain everything and to bring Tsukasa there. Meanwhile, Rui is flipping through several television channels when he notices Tsukushi in the background of a news segment.
Character appearances
Notes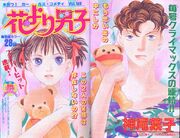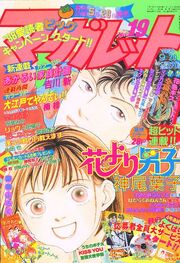 In its first release, the chapter was published with a color illustration of Tsukasa and Tsukushi. It was later republished in volume twelve of the complete edition.
Adaptations
References
See also