Chapter 14 (第14話, Chapter 14) of the manga series Boys Over Flowers was first released in October 1992 in Margaret. It was followed by chapter fifteen later that month.[1] The chapter was also included in volume three of the series.
The new term starts at Eitoku Academy, much to Tsukushi Makino's dread. Her classmates continue to bully her and Kazuya Aoike. Later that day, Tsukasa Domyoji sees her alone with Rui Hanazawa at the school's emergency exit.
Plot
Tsukushi Makino wakes up on September first, dreading the start of Eitoku Academy's fall term. In the other hand, Tsukasa Domyoji is uncharacteristically cheerful which surprises and frightens his servants. Tsukushi is greeted by Kazuya Aoike when she arrives at school. He believes that he "created a bond" with the other Eitoku students during the Atami trip. Tsukushi tries to tell him that this is unlikely. Seconds later, a students throws a can at Kazuya's head, proving his theory wrong.
In her classroom, Tsukushi becomes annoyed while listening to her classmates. Yuriko Asai, Erika Ayuhara, and Minako Yamano embellish the details of their trip with the F4. They say something rude about Tsukushi, causing her to leave. In the hallway, she finds Tsukasa, Akira Mimasaka, and Sojiro Nishikado. She discovers that Tsukasa has stolen her school slippers. She runs off after calling him a "moron." Seeing this, Yuriko and her friends decide to show Tsukasa the video they taped during the trip.
Tsukushi goes to the emergency exit, hoping to see Rui Hanazawa. He then surprises her by coming up behind her. Looking for Rui, Tsukasa asks another student if he saw him. He then sees Rui and Tsukushi animatedly talking through the door's window. Tsukasa asks Sojiro and Akira if they knew about these meetings. Yuriko takes the moment to reveal Tsukushi's crush on Rui and present him the video. It upsets Tsukasa, who promptly smashes the video recorder on the ground.
Character appearances
Notes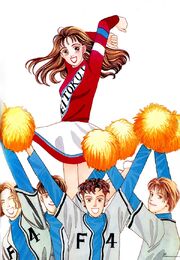 This chapter takes place on September 1, the start of Eitoku's fall term.
The chapter was originally released in Margaret with a color opening of Tsukushi and the F4 as cheerleaders.[2] It was later included in the series' art book published in 1995 and volume two of the complete edition.
Adaptations
References
See also