Chapter 139 (第139話, Chapter 139) is the final chapter collected in the twenty-first volume of Boys Over Flowers by Yoko Kamio. It was published on June 5, 1998 in Margaret.[1] The chapter was followed by the series' one hundred and fortieth installment the same month.
In the rain, Tsukushi Makino breaks up with Tsukasa Domyoji. He demands an explanation, so she reveals what happened with his mother. Tsukushi remains steadfast in her decision and leaves behind a devastated Tsukasa.
Plot
While Tsukushi Makino and Tsukasa Domyoji are standing in the rain, Tama complains about her not coming home yet. A maid reveals that Tsukushi did come home but left again. Tama then asks about Kaede Domyoji and learns that she left for New York earlier. In Tsukushi's room, Tama finds her things gone. She then reads a letter left for her, in which Tsukushi lies about her parents returning home. Tsukushi apologizes for not telling her and says "You were like a real grandmother to me."
Completely shocked, Tsukasa asks Tsukushi "What the heck are you talking about?" She answers "I'm leaving your home now." Tsukasa is confused so he reminds her of their date and says "You said you wanted us to be equals, so you told me not to leave home, didn't you?" He then asks if she said all that to "cut off [their] relationship." She denies it, leading Tsukasa to demand an explanation. Tsukushi finally reveals that his mother is behind it, but stops him from confronting her saying "I've made up my mind."
Tsukasa is devastated that their relationship is ending like this. He asks Tsukushi "Have you ever seen me as just a guy?," telling her to disregard his family. Tsukushi does not reveal her true feelings, instead saying "If I loved you, I wouldn't be leaving like this." She picks up her bags and walks away, eventually meeting Tama. Seeing her tears, Tama starts to cry and says "Such a lie, you told the young master." To herself, Tsukushi admits "The truth is I've thought many, many times that I loved Tsukasa."
Character appearances
Notes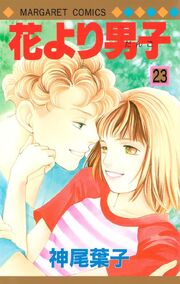 The chapter was first published in Margaret No.13 of 1998 with a two page color illustration.[2] The image was later used for the cover of the series' twenty-third volume.
This chapter marks a turning point in the series and Tsukushi and Tsukasa's relationship. As such, it is frequently referenced in subsequent chapters like one hundred and seventy-one.
Adaptations
References
See also