Chapter 134 (第134話, Chapter 134) of Yoko Kamio's Boys Over Flowers was initially published in the manga magazine, Margaret, on March 5, 1998.[1] It was followed by chapter one hundred and thirty-five later the same month. The chapter was also included in volume twenty-one of the series.
Kaede Domyoji becomes angry with Tama for allowing Tsukushi Makino to work at her home as a live-in maid. Tama reminds her of her father-in-law's last words and threatens to die if Kaede attempts to drive Tsukushi from the house.
Plot
Kaede Domyoji orders Tama to explain Tsukushi Makino's presence in her house. Tama apologizes for appointing Tsukushi as Tsukasa Domyoji's personal maid, admitting that she "overstepped [her] bounds." Tsukushi attempts to stand up for Tama, who interrupts her to say "But this child begged to do it." She then reveals that Tsukushi and Tsukasa are dating and calls Kaede "boorish" for interfering. Becoming angry, Kaede shouts at Tama "I'm asking you why in heaven you allowed her to enter!"
Frightened of Kaede, Tsukushi stands up and tells her that she will leave. Kaede, however, stops her to ask how much money she wants. Tears of anger spring into Tsukushi's eyes and she feels pity for Tsukasa's upbringing. Tama stops Kaede, telling her that she will not "allow" her to "drive [Tsukushi] out." She then reminds her of the final words of her father-in-law that require the family to take care of Tama until her death. Therefore, Tama threatens to die if Kaede forces Tsukushi to leave the house.
In Tama's bedroom, Tsukushi finds an old photo of Tama and her deceased husband. Tama reveals that she was taken in by Tsukasa's grandfather, leading her to devote her life to the family. She then talks about Tsukasa's "wild" days and says "You're the one who changed him, aren't you?" Tsukushi hesitates, saying "I just hit him." Tama smiles, telling her "There was no one in his home who could do that to him." She then makes a suggestion for Tsukushi to have a baby with Tsukasa in order to have her remain there.
Character appearances
Notes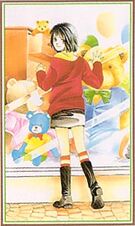 A full color illustration served as the opening for the chapter in its initial release in Margaret.[2] It was later used on the back cover of volume twenty-one.
Adaptations
References
See also