"I haven't felt so relaxed in a long while. I wonder if this is what average couples do. Take a walk, then eat and talk together..."
Chapter 132 (第132話, Chapter 132) of Yoko Kamio's Boys Over Flowers was published on February 5, 1998 in the manga magazine, Margaret.[1] The chapter was the last collected in the series' twentieth volume. It followed by one hundred and thirty-three on February 20, 1998.
Tsukushi Makino follows Yuki Matsuoka and Sojiro Nishikado into a hotel. Once inside, she relaxes and forgets about Yuki until Tsukasa Domyoji reminds her. Later, they discover that Tsukasa's mother has returned.
Plot
Tsukushi Makino follows Sojiro Nishikado and Yuki Matsuoka into a hotel. She asks the concierge for a room next to theirs. He asks for a reservation and a credit card, but she has neither. The concierge tells her that she can pay up front, but it costs one hundred and eighty thousand yen. Tsukushi attempts to convince him to give her a discount, eventually leading to two men to carry her out. By the front door, they meet Tsukasa Domyoji. He informs the men of his family name, causing them to drop Tsukushi.
Tsukasa and Tsukushi walk into the room he has booked. She immediately starts admiring the room and mentions that its color scheme reminds her of his home. Tsukushi shouts when Tsukasa takes off his shirt. He tells her that is taking a shower since he was "tossed into the sea." She asks "By who?!" to which he points at her. While he is in the shower, Tsukushi thinks "I don't understand it, but it seems I've done it again." She relaxes in the room by herself while waiting for Tsukasa to come out.
Tsukushi and Tsukasa start bantering light-heartedly. Their conversation turns to the room's price, to which Tsukushi says "I would never spend 180 thousand on something like this." Tsukasa asks what she would spend it on instead. Her answers make Tsukasa laugh since they are ordinary. He reminds her about Yuki. Having forgotten, Tsukushi runs into the hallway. She and Tsukasa then briefly see his mother, before going into the other room. They are greeted by the F3 and Yuki, revealing the ruse.
Character appearances
Notes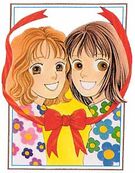 Tsukushi makes a reference to the Japanese historical figure Tokugawa Mitsukuni, better known as Mito Komon.
In Margaret, the chapter was released with a color illustration of Tsukushi and Yuki framed with a red ribbon.[2] It was later used on the back cover of volume twenty.
Episode thirteen of F4 Thailand has a scene partially inspired by the hotel scene in this chapter.
Adaptations
References
See also