Chapter 131 (第131話, Chapter 131) was the first installment of Boys Over Flowers released in 1998. It was published in Margaret's combined third and fourth issue on January 5, 1998.[1] The chapter was followed by the one hundred and thirty-first entry the next month on February 5, 1998.
Tsukushi Makino enlists Tsukasa Domyoji's help in following Sojiro Nishikado and Yuki Matsuoka on their date. It is all a ruse orchestrated by Sojiro. Tsukushi worries that her friend's virtue is at stake when she sees them go into a hotel.
Plot
Tsukushi Makino is determined to "protect" Yuki Matsuoka from Sojiro Nishikado. She watches Sojiro greet Yuki at her house. An annoyed Tsukasa Domyoji asks "When you said you wanted me to "go" with you, were you talking about this stupid caper?" The two begin arguing, not realizing Sojiro and Yuki can hear them. First, Sojiro takes Yuki to the beach. They are followed by Tsukushi and Tsukasa, who angrily decides to leave. She needs him for money and transport so she says "please." He then agrees to stay.
Next, Sojiro and Yuki go to a nice restaurant. She says to him "I wonder if things will work out between Tsukasa and Tsukushi." Sojiro calls him a "good guy" since he "takes good care of Tsukushi." Yuki asks him "Don't you take good care of the girl you like?" He answers "I may be good looking, but I'm not a good guy." Meanwhile, Tsukasa feeds Tsukushi commenting on her weight. He then says "If you lose weight after you start going with me, it looks as though you're suffering." Tsukushi blushes and starts eating.
Tsukushi and Tsukasa follow Sojiro and Yuki outside. He tells Tsukushi to "Leave them alone," reasoning that "things just have to run their course." Tsukushi hesitantly accepts it. She then tells Tsukasa that she will start thinking of their relationship "seriously." Tsukasa says "Come over here" and puts his arm around her shoulder. He is worried about her catching a cold and promises to buy her a coat. Tsukushi then spots Sojiro and Yuki walking into a hotel. She pushes Tsukasa away, accidentally sending him into the sea.
Character appearances
Notes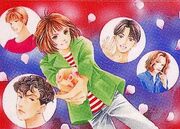 Adaptations
References
See also