"You may be annoyed to hear me say this, but I don't want Tsukasa to have to go through what I did. Besides, I really like you! I definitely want my mother to see how wonderful you are. So please think it over. About living with us. I think it's a good chance for you to settle things with Tsukasa."
Chapter 117 (第117話, Chapter 117) of Boys Over Flowers by Yoko Kamio was released in Margaret's twelfth issue on May 20, 1997. It is also the first installment in the "Tsukushi as Maid Arc."[1] The chapter was followed by chapter one hundred and eighteen on June 5. It was later collected into the eighteenth volume of the series.
Tsubaki Domyoji invites Tsukushi Makino to stay at her home. She is reluctant to agree due to two reasons, those being Tsukasa Domyoji and his mother. The next morning, Tsukushi gets the idea to work there as a maid.
Plot
After Tsubaki Domyoji invites her to live there, Tsukushi Makino can only say "You're joking, right?" Tsubaki insists that she is serious and reminds Tsukushi that she will eventually have to sleep outdoors. Whereas, she "can stay as long as [she] like[s]" at her home. Tsukushi still declines, thinking of Tsukasa Domyoji and his mother. Tsubaki then tells her "I don't care if it turns out that you just can't come to love Tsukasa." She does not want to see anyone else be manipulated by her family.
Tsubaki reveals to Tsukushi about her arranged marriage. She was already in love with ordinary boy and put up a fight. Tsubaki changed her mind after her future husband said to her "I'll wait for you to turn to me, whether it takes 10 or 20 years. Then if the whole world becomes your foe, I will be your only ally." Tsubaki tells Tsukushi that she is happy now, but a part of her scolds her "Why didn't you try harder?" She then admits to her "I don't want Tsukasa to have to go through what I did."
Before exiting the room, Tsubaki tells her that her mother is away on business and Tsukasa has not yet returned. Tsukushi falls asleep thinking of the situation. The next morning, maids wake Tsukushi and try to help her dress. She shoos them out, before getting an idea. Meanwhile, Tsukasa arrives home, demanding to see his mother over what happened at Tsukushi's apartment. Tsubaki tries to make him leave, before hurriedly telling him everything. Tsukushi then walks in dressed in a maid's uniform.
Character appearances
Notes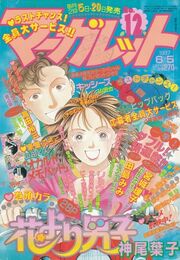 It was originally published with a color illustration of Tsukushi and Tsukasa in Margaret.[2] The image was later reprinted in the tenth volume of the complete edition.
Kamio also illustrated the cover of Margaret that this chapter was published in.
Adaptations
References
See also