Chapter 10 (第10話, Chapter 10) of Boys Over Flowers by Yoko Kamio was first released on August 5, 1992 in Margaret No.17. The chapter also marks the beginning of the "Atami Arc". The next entry of the series followed in on August 20, 1992.[1]
Tsukasa Domyoji kicks Rui Hanazawa out of the F4 after he protects Tsukushi Makino. She catches a cold and stays home from school the next day. Tsukasa makes a surprise visit her to her family's apartment.
Plot
Rui Hanazawa saves Tsukushi Makino from a crowd of bullies. Tsukasa Domyoji becomes angry at Rui for protecting her, since Tsukushi was given a red card on Tsukasa's orders. He tries to grab her from Rui's arms, which becomes a sort of tug-of-war. She eventually yells at them to both let her go. The fight only ends after Tsukasa declares that he and Rui are no longer friends. Shizuka Todo helps Tsukushi off the floor and takes her to the bathroom to freshen up.
In the bathroom, Shizuka wonders aloud if Rui likes Tsukushi, who readily denies it. Tsukushi is amazed by Shizuka's kindness, despite them being "worlds apart." Afterwards, she meets Rui at the stairwell. She thanks him for saving her and apologizes for causing the "falling out" between him and Tsukasa. He retorts that the fight had "been brewing" anyway. Tsukushi then meets up with Kazuya Aoike, who invites her to his villa in Atami for the summer. She starts to feel dizzy and passes out.
Tsukushi stays at home to recover from a high fever. Back at school, Tsukasa hears about her condition and decides to visit her. Her parents quickly invite him to dinner upon learning his family name. After dinner, Tsukushi's mother forces her to walk him to his car. Tsukasa asks her if she will be going to Hawaii in an arrogant manner. She reveals that she is going to Atami with Kazuya. The next day, Tsukasa announces to Akira Mimasaka and Sojiro Nishikado that they are going to Atami.
Character appearances
Notes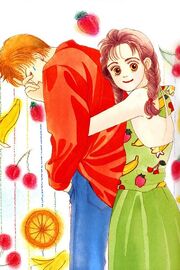 The chapter was first released with a color opening of Tsukushi and Rui.[2] It was also included in the art book and volume one of the complete edition.
Kim Tae-oh, who played Rui in the 2017 musical, was born the same day that this chapter was published.
Adaptations
References
See also