Wu Xi Ze (Chinese: 吴希泽; pinyin: Wú Xīzé, born October 16, 1996 in Shenzhen, China), also known as Caesar Wu, is a Chinese actor and singer. In his debut role, he played Xi Men Yan in the Meteor Garden remake.
Biography
Early life
Wu was born on October 16, 1996 in Guangdong, China.[1] He was in primary school at the time of the original airing of Meteor Garden (2001).[2]
Career
In November 2017, Wu was cast in the Meteor Garden remake and appeared alongside his co-stars Dylan Wang, Darren Chen, and Liang Jing Kang in Harper's Bazaar China.[3] Later that month, the cast attended a press conference in Shanghai, where Wu's role as Xi Men Yan was announced.[4] Meteor Garden aired during the summer of 2018.[5] In 2020, Wu starred in the historical dramas, The Chang'an Youth[6] and General's Lady.[7]
Filmography
Television dramas
Year
Title
Role
Notes
2018
Meteor Garden
Xi Men Yan
2020
The Chang'an Youth
Yang Zi An
General's Lady
Chu Xiu Ming
2021
The Dreamlike Seal
Fu Ye
TBA
Yi Pian Bing Xin Zai Yu Hu
Zhan Zhao
Notes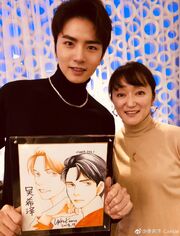 References
External links