"I have three cats, but only two of them get along with each other. Every time I pass in and out of their respective rooms over the course of a day of drawing manga, I wonder if they'll ever be able to coexist."
—Yoko Kamio, 2016
Boys over Flowers Season 2 5 (花のち晴れ〜花男 Next Season〜 5, (花のち晴れ〜花男 Next Season〜 5 Hana Nochi Hare ~HanaDan Next Season~ 5) is the fifth compilation of Boys Over Flowers Season 2. It was first published on December 2, 2016 in Japan by Shueisha.[1] Viz Media published the volume digitally on May 23, 2017.[2] It contains chapters twenty-eight through thirty-five.
Oto Edogawa and Tenma Hase run into Haruto Kaguragi and Megumi Nishidome at an amusement park. The awkward double date ends in a near-death experience for Haruto. Later, Haruto confesses his feelings to Oto but she rejects him. He refocuses his efforts on protecting Eitoku.
Book description
"Haruto Kaguragi stands atop the wealthy elite of Eitoku Academy, but he's secretly in love with its poorest student, Oto Edogawa. After Haruto and Megumi bump into Oto and Tenma at the amusement park, they decide to go on a double date. But when Haruto finds himself alone on the Ferris wheel with Oto, he attempts to confess his feelings. Too bad a freak accident spoils his plans! Later that night, Oto comes to his house to finish where they left off..."
—Viz description[3]
Summary
At an amusement park, Oto Edogawa and Tenma Hase unexpectedly run into Haruto Kaguragi and Megumi Nishidome. Megumi suggests to turn their meeting into a double date, which everyone reluctantly agrees to. Towards the end of the night, the two couples decide to ride the Ferris wheel. Haruto absentmindedly walks pass Tenma and gets on the ride with Oto.[4] Alone together, Haruto nearly confesses his love to Oto. The Ferris wheel makes a sudden lurch, causing a child to hang out of the car below. Haruto climbs down and rescues the child, though he falls when the ride starts again. A mattress that has been placed below catches him in time. Megumi immediately throws her arms around Haruto.[5]
After Haruto's near-death experience, Megumi asks him to "go out with [her] for real.". Meanwhile, Oto realizes Tenma is insecure in their relationship since she has not settled things with Haruto. She visits his house, where he confesses his feelings. Oto thanks him for his sincerity, before declaring "Now we can end this."[6] She asks him to stop pursuing her now that she has a boyfriend. After Oto leaves, Kobayashi arrives with a puzzle to cheer up Haruto. They put it together and Haruto realizes that the puzzle is of Megumi. She then shows up. At the same time, Oto walks home and finds Tenma waiting for her. She apologizes but he silences her with a kiss, saying "Don't ever apologize to me again."[7]
Later, Kaito Taira, Sugimaru Eibi, and Issa Narumiya inform Haruto about "Eitoku hunting." They report that several students have been attacked in town with yellow spray paint. Haruto realizes that the Correct 5 has "to get more powerful" in order to protect their school. A couple days later, they arrive at Eitoku to find the school's gates vandalized.[8] Oto appears with a mop and bucket, urging the other students to start cleaning. Meanwhile, Tenma attends a student council meeting at Momonozono Academy. His vice president Hitoshi Konoe is surprisingly harsh with the other members. After school, Oto waits for Airi Maya. She is approached by three strangers with spray paint.[9]
Airi frantically calls Haruto when Oto does not show up. He appears disinclined to help, leaving Airi frustrated. Two hours earlier, the thugs attack Oto and accidentally get spray paint in her eyes. A group of Momonozono students walk by and assist her to the hospital. When Tenma arrives, he asks her to transfer to his school.[10] He decides to give her time to think it over and has Konoe escort her to work. Konoe is annoyingly pushy about her transferring, though she insists that "[she is] still thinking about it." A short while later, Haruto arrives at her work. He notices spray paint in her hair and becomes worried, which turns to annoyance when she mentions the Momonozono students and Tenma.[11]
Contents
See also: Boys Over Flowers Season 2/Chapters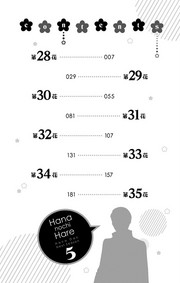 Chapter 28: Oto Edogawa and Tenma Hase run into Haruto Kaguragi and Megumi Nishidome. It was released in May 2016.[12][13]
Chapter 29: first published on June 26, 2016.[14] Things turn awkward when Haruto accidentally gets onto the Ferris wheel with Oto.
Chapter 30: Haruto nearly dies after saving a child from falling off the Ferris wheel. It was published in July 2016.[15]
Chapter 31: The chapter was released on July 24, 2016.[16] Haruto confesses his feelings to Oto and she asks him to stop pursuing her.
Chapter 32: A trend known as "Eitoku hunting" comes to Haruto's attention. It was published in August 2016 on Shonen Jump+.[17]
Chapter 33: After school, Oto is attacked by three guys. It was published on September 4, 2016 in both Japan and America.[18]
Chapter 34: released in September 2016.[19] Oto is taken to the hospital by some Momonozono students.
Chapter 35: Tenma invites Oto to transfer to Momonozono after she is targeted for attending Eitoku. The chapter was published on October 2, 2016.[20]
Editions
See also: Foreign editions of Boys Over Flowers
Notes
References
See also
External links