"Thank you very much for reading volume 15! While writing this story, I played around with the characters cogitating alongside them as sometimes things didn't turn out the way they wanted. I had a lot of fun working on this story. If that feeling was evident to you, the readers, there would be no greater joy for me as a manga artist."
—Yoko Kamio, 2020
Boys over Flowers Season 2 15 (花のち晴れ〜花男 Next Season〜 15, (花のち晴れ〜花男 Next Season〜 15 Hana Nochi Hare ~HanaDan Next Season~ 15) is the final volume of Yoko Kamio's Boys Over Flowers Season 2, collecting the last eight chapters of the series. Shueisha published it in Japan on March 4, 2020.[3] It was released by Viz Media on September 22, 2020.[2]
Oto Edogawa decides to stay in Tokyo to be near Haruto Kaguragi when her parents reveal they are moving to Kyushu. She and Haruto later help Tsukushi Makino reunite with Tsukasa Domyoji before she leaves for Los Angeles. After Konno's wedding, Haruto and Oto reaffirm their relationship.
Book description
"Oto's parents finally accept her relationship with Haruto, but then the Edogawa family announces plans to move to a different city! Oto and Haruto are upset at this new turn of events, but after listening to some heartfelt advice from an unexpected source, they both reach the same conclusion about their future together. See how Oto and Haruto's story wraps up in this final volume!"
—Viz description[4]
Summary
Oto Edogawa and Haruto Kaguragi, along with Tsukushi Makino and Rui Hanazawa, sit down to talk to Oto's parents. Her father tells her that they approve of their relationship now, but that it will have to be long-distance because they are moving. Haruto and Oto go outside to talk. Tsukushi tells them "If you two need to be together then I don't think you should separate," giving them courage to speak to her parents.[5] Oto's father agrees that she can stay in Tokyo, revealing that they have arranged for her to stay at her aunt's. He adds a warning to Haruto that he will come get her if anything should happen. The couple meet up with Tsukushi afterwards to tell her how things ended. Tsukushi then tells them she will be returning to Los Angeles.[6]
The next day, the Correct 5, except Haruto, and Oto go to see off Tsukushi. Before she boards the plane, Kaito Taira tells her about Haruto meeting Tsukasa when he was young and how he changed him. Airi Maya asks her to give him their thanks. Meanwhile, Haruto happens to meet the F4, whom are rushing to see Tsukushi. He calls Oto to stop the plane, allowing them to reach Tsukushi in time.[7] Tsukasa embraces Tsukushi, before they begin arguing. She tells him "I don't want to be the only one with the easy path," though she admits that she was lonely. He holds her, promising to come whenever she calls. Tsukushi then introduces him to Haruto, whom he does not remember at first. Tsukasa tells him to take care of Oto, adding "We'll probably meet again someday."[8]
Sometime later, Oto says goodbye to her parents at the train station. She later begins to settle into her new apartment when Haruto arrives. They then wait for the others to arrive. However, their friends have decided not to go in order to give the couple some time alone. A couple hours later, Haruto makes to leave but Oto stops him. She admits to being lonely and he kisses her.[9] Haruto invites her back to his house, when they are interrupted by a knock at the door. It turns out to be Oto's aunt, who has stopped by to check on her and soon leaves. Haruto talks to Oto about his future, saying "I want you to come with me." She agrees and he then rushes out, feeling that he is "taking advantage of [her] loneliness." Oto follows him and says "I'll go with you."[10]
Oto and Haruto walk together to his house. She tells him "It's my first time." He says it is his first as well, saying "I only ever planned to do it with the girl I love." A teenager then tries to rob them. Haruto realizes he is being used which reminds him of himself. He encourages him to change and "escape the loop." At Haruto's house, he and Oto spend the night in each other's arms. He feels an "overwhelming" happiness.[11] On Christmas, Oto and the Correct 5 go to Arisa Konno's wedding. Konno comes up with an idea to let Haruto and Oto sneak out. He presents Oto with a ring, telling her "You know how I am, but please let's be together forever." She agrees with tears in her eyes. He then kisses her and says "This is a promise for a future proposal."[12]
Contents
See also: Boys Over Flowers Season 2/Chapters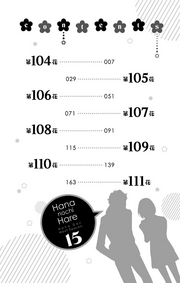 Chapter 104: published on September 15, 2019.[13] When Oto Edogawa's parents announce that they are moving, she decides to remain in Tokyo.
Chapter 105: Oto and the Correct 5 go to see off Tsukushi Makino, before she returns to Los Angeles. It was released in September 2019.[14]
Chapter 106: Haruto Kaguragi helps Tsukasa Domyoji meet Tsukushi in time. The chapter was released on October 13, 2019.[15]
Chapter 107: first released on Shonen Jump+ in October 2019.[16] Haruto feels exhilarated after meeting his hero, Tsukasa, again.
Chapter 108: Oto says goodbye to her parents before settling into her new apartment. It was published simultaneously on November 10, 2019.[17]
Chapter 109: Haruto and Oto discuss their future together. The chapter was published on November 24, 2019.[18]
Chapter 110: originally released on December 8, 2019 in both Japan and America.[19] Haruto and Oto spend the night together at his house.
Chapter 111: Oto and the Correct 5 attend Arisa Konno's wedding on Christmas. The final chapter, it was published on December 22, 2019 on Shonen Jump+ and Viz Media's website.[20]
"Greetings": Yoko Kamio thanks the reader for picking up the volume. She then discusses her thoughts about the series, such as her concept of Haruto and deciding to have Tsukushi and the F4 appear in it.
Editions
See also: Foreign editions of Boys Over Flowers
South Korea: Seoul Media Group published it in Korean on May 27, 2021 as 꽃보다 맑음 15.[21]
Taiwan: the volume was published as Meteor Garden Next Season 15 (流星花園~Next Season~15) by Tong Li Comics on August 3, 2020.[22]
Notes
On January 19, 2020, Kamio posted on her Twitter that she was in the middle of drawing the bonus pages for the volume.[23]
Kamio posted a photo of the book on her Instagram on March 1[24] and her Twitter on March 2, 2020.[25]
Starting on March 23, 2020, art work from Boys Over Flowers and its sequel series was displayed at Shueisha Gallery to commemorate the release of this final volume.[26][27]
References
See also
External links
Community content is available under
CC-BY-SA
unless otherwise noted.