"Thank you for all your letters. I'm so happy to hear from you. And thanks also to those who've sent me gifts. I take good care of them. Many of you have been sending me bath salts. After a deadline, my assistants and I enjoy them very much."
—Yoko Kamio, 1994
Boys over Flowers 6 (花より男子 6, Hana Yori Dango 6) is the sixth volume of Yoko Kamio's Boys Over Flowers series. It was first published by Shueisha on March 25, 1994[1] and followed by volume seven the following June.[3] The volume was translated into English by Viz Media and released on June 9, 2004.[2] It collects chapters thirty-one to thirty-seven of the manga.
Tsukasa Domyoji confesses his feelings to Tsukushi Makino. Meanwhile, Rui Hanazawa returns from France acting like a different person. Tsukushi is disturbed by his change and finds herself constantly thinking about him. Later, Tsukasa drags Tsukushi along on the F4's trip to his private island.
Book description
"Could Tsukushi Makino really fall under Tsukasa Domyoji's spell? Desire and jealously walk hand in hand as the crazed Tsukasa seeks revenge on behalf of Tsukushi. Rui Hanazawa surprises everyone with his return from France. Tsukasa's mixture of cruelty and compassion is as perplexing as ever."
—Viz description[4]
Summary
After saving Tsukushi Makino from her attackers, Tsukasa Domyoji brings her to his house. There he cleans up her wounds with a first aid kit. Tsukasa takes responsibility for what happened to her, though he asks "You didn't really do it with that blonde, did you?" Annoyed, Tsukushi accuses him of being "jealous." He confirms as much, before confessing "I love you." Tsukasa then leans in and kisses her. Tsukushi kisses him back, realizing "Was I hoping for this in some corner of my head?" The next morning, a maid informs her that Tsukasa left early "shouting something about revenge." Tsukushi rushes to school, where she finds Tsukasa punishing her attackers. He stops once Tsukushi tells him "That's enough."[5]
Rui Hanazawa makes a surprise return from France. Tsukasa quickly informs him that he and Tsukushi are dating now. That afternoon, she finds her parents celebrating her "engagement" to Tsukasa. The doorbell then rings with the arrival of Thomas, who reveals Sakurako Sanjo's past. Though not ready to forgive her, Tsukushi later defends Sakurako when people make fun of her for having plastic surgery.[6] Later, Tsukasa gives Tsukushi a pager and orders her to come whenever he calls. That night, he has her meet him at a club. She only goes to complain about the furniture he has unloaded in her family's home. However, she is distracted when she sees Rui kissing a girl. She then rushes home.[7]
At the emergency exit, Tsukushi is shocked when Rui suggests that she "dump Tsukasa and give [him] a try." He then laughs and calls it a "joke." Tsukushi feels confused about this new, flirty Rui. After school, Tsukasa takes Tsukushi on a trip to his family's villa. They are joined by the F4 and their dates. When Tsukasa shows her her room, he hugs her and says "This is our room."[8] That night, Tsukushi talks to the two girls Sojiro Nishikado picked up. One reveals that she is staying with Rui. Tsukushi goes to bed early. Tsukasa comes in and tells her that he will sleep on the couch since she has not yet told him her feelings. Once Tsukasa is asleep, Tsukushi goes for walk and finds Rui at the beach.[9]
After asking Tsukushi to hold him, Rui tells her about his time with Shizuka Todo. He confesses "I'm still just a kid who can't do anything for the women he loves." Tsukushi's pager rings and she returns to the villa. She lies to Tsukasa about being alone. The next day, the F4 are playing volleyball when her pager falls out of Rui's shorts. He gives it to Tsukasa, saying that she left it the night before.[10] Tsukasa later asks Tsukushi about her pager and she lies again. Kazuya Aoike, Sakurako, and Thomas then arrive on a boat and bring shocking news about Shizuka's engagement. That night, Tsukushi seeks out Rui, saying "I can't get you out of my mind." He kisses her, wondering "Why didn't I fall for a girl like you?"[11]
Content
See also: Boys Over Flowers/Chapters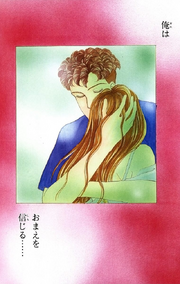 Editions
See also: Foreign editions of Boys Over Flowers
Videos
See also: Boys Over Flowers Highlights
Notes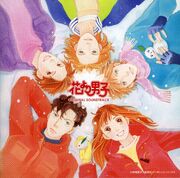 The cover illustration was first featured on the cover of Margaret No.22 in October 1993.[19][12] It was also included in Kamio's art book.
Kamio remade the cover for the Hana Yori Dango (2005) soundtrack, giving it a winter theme instead.[20]
Hana Yori Dango Returns (2007) pays homage to this cover during its opening theme.
Viz's edition of the manga places the volume number in a flower on the spine and front cover. It is noticeably missing from this volume.
References
See also
External links