"Somehow I got all the way to volume 5 before I knew it. I owe all my faithful readers my thanks--I'm really grateful. The fan letters you send me give me the strength to keep going. Thank you very much!"
—Yoko Kamio, 1993
Boys over Flowers 5 (花より男子 5, Hana Yori Dango 5) is the fifth collected volume of Boys Over Flowers by Yoko Kamio. It was published on November 25, 1993 in Japan.[1] The volume was also the fourth to be published in 1993. Viz Media published it on March 24, 2004 for North America.[2] It covers chapters twenty-five through thirty.
Tsukushi Makino attempts to keep Thomas a secret, while helping her new friend Sakurako Sanjo. However, she later learns that Sakurako was the cause of everything. Deciding to stand her ground, Tsukushi faces the bullies at school. She only wishes for Tsukasa Domyoji to believe her side.
Book description
"This volume contains innumerable ups and downs for our heroine, Tsukushi Makino. Domyoji Tsukasa is as jealous as ever with the arrival of Thomas while lurid and embarrassing photos of Tsukushi and Thomas emerge. Just when she thought that things couldn't get any worse her tormentors up the ante of cruelty and violence! Will anyone come to her rescue?"
—Viz description[3]
Summary
Tsukushi Makino runs into Thomas at Sakurako Sanjo's house. He agrees to forget the other night though he makes her promise to see him again. After he leaves, Sakurako tells Tsukushi about her fear of boys. Tsukushi's solution is to introduce her to the F4. Sojiro Nishikado and Akira Mimasaka quickly take to the innocent Sakurako. A few minutes later, she hands Tsukushi a note from Thomas.[4] Tsukasa Domyoji finds Tsukushi talking to Thomas by the school's gate. She distracts him, giving Thomas time to escape. Tsukasa becomes annoyed and Tsukushi reminds him that they are not actually dating. The next day, Sakurako is acting differently around Tsukushi and has seemingly gotten over her fear of boys.[5]
At a club, Tsukushi is shocked to see Sakurako dancing and overhear a group of girls confronting her about stealing someone's boyfriend. Confused at first, she decides to be "understanding." The following day, she takes up for Sakurako when Tsukasa yells at her. She, however, shouts at Tsukushi and later admits to being in love with Tsukasa.[6] The next day, Tsukushi's classmates return to bullying her again though more harshly. Hearing snippets of gossip, she rushes to the bulletin board where she sees a photo of her and Thomas. While confronting him, Tsukushi realizes that he put something in a drink and nothing happened between them. He then admits that Sakurako forced him to do everything.[7]
Calling Tsukushi an "ugly bitch," Sakurako reveals her true self. Tsukushi refuses to back down, saying "Look at yourself in a mirror! Then you'll see what ugly is!" Later, she wonders how Tsukasa will react to the photo, feeling a pang when she thinks of him being disappointed. The next day, the students attack her fervently. When they tie her to a car, Tsukasa shows up and yells at them to stop.[8] Sakurako then shows the photo to him and lies about Tsukushi sleeping with Thomas at her house. Tsukushi pleads "I just want you to believe me." In shock, Tsukasa walks away. That night, Sakurako attempts to seduce him. It fails and Tsukasa leaves to go save Tsukushi. After apologizing, he hugs her and says "I believe you."[9]
Content
See also: Boys Over Flowers/Chapters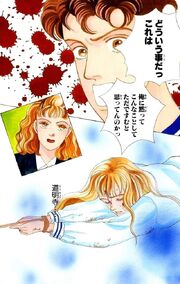 Editions
See also: Foreign editions of Boys Over Flowers
Videos
See also: Boys Over Flowers Highlights
Notes
References
See also
External links