"Thank you very much for your many letter and gifts! Reading your letters gives me the energy to continue working hard! This magazine serial has continued for over 200 issues, but I will do my best to continue as long as I can. I hope you will keep on supporting me!"
—Yoko Kamio, 2001
Boys Over Flowers 29 (花より男子 29, Hana Yori Dango 29) is a volume of the manga Boys Over Flowers by Yoko Kamio. It was published in Japan by Shueisha on June 25, 2001.[1] The volume was later published in English on April 8, 2008.[2] Chapters one hundred and eighty-seven to one hundred and ninety-three are collected in it.
While out on a date, Tsukushi Makino and Tsukasa Domyoji are shown on television which his mother sees. Tsukasa disappears the following day. Realizing he has been taken to New York City, Tsukushi is determined to go to him this time. However, her trip does not go as planned from the start.
Book description
"Although Tsukushi Makino is from a poor family, she attends an elite school for the super rich, where her life has become intertwined with the "F4," the ruling boys of the school, in a whirlwind of love and confusion!
Things are going fairly smoothly between Tsukushi and her on-and-off boyfriend Tsukasa, but the bliss can't last for long. Deep in the heart of New York City Tsukasa's conniving mother is cooking up another evil plan to destroy her son's relationship with our beleaguered heroine. How far will Tsukushi go to be with her hardheaded beau?"
—Viz description[2]
Summary
Tsukasa Domyoji suggests going to New York City to talk to his mother, which Tsukushi Makino is completely against. Nevertheless, she decides to "trust him" and the two go out on a date without worrying about the secret police. Unfortunately, Kaede has already learned about the couple and orders for Tsukasa's cards to be stopped. The repercussions are almostly immediately noticed.[3] Though Tsukasa becomes suspicious about his credit cards, Tsukushi tries to reason it away. She then grabs his arm, saying "Let's go on a poor man's date!" After visiting a pet store, the two are gifted tickets to a baseball game. There Tsukushi happens to catch an important baseball, which Kaede sees on television.[4]
During the rest of their date, Tsukasa notices that something is off but decides to act normal. As he walks Tsukushi back home, they make plans to meet on the rooftop at school for lunch the next day. After she enters her apartment, Tsukasa is suddenly surrounded by several men. He declares "Don't lay a hand on Tsukushi," threatening to "kill" them if they do so.[5] The next day, Tsukushi waits but Tsukasa never shows up for lunch. The F3 talk to Tsukushi, revealing that Tsukasa's mother probably saw them on television. Sakurako Sanjo then says that Tsukasa has given his notice. Gathering her bearings, Tsukushi decides to go after him this time. The F3 give her their support and she quickly begins preparations for her trip.[6]
Shortly after arriving in New York, Tsukushi is robbed of her bag. She then learns that she cannot afford to stay in a hotel. As she wanders around, she is accosted by two men. Tsukushi is frightened until another man arrives, who turns out to be her old acquaintance Thomas. He takes her to where he stays with his friends. One of them happens to be the thief from earlier, but he only has her necklace left.[7] The next day, Thomas takes her to Central Park. He tries to talk her out of going to the Domyojis' home. She ends up threatening him, causing an old man nearby to applaud her tenacity. Even with Thomas and his friends' help, Tsukushi cannot get inside the mansion until Tama arrives.[8]
After splitting up, Tsukushi runs into Kaede who calmly takes her inside the house and leads her into a room. Tsukasa walks in seconds later. Instead of a cheerful reunion, Tsukasa looks at her with cold eyes and tells her "Go on home." Tsukushi is shocked speechless but shouts after him as he leaves the room. She ends up leaving quietly and lies to Tama that she is going "sightseeing." Tsukasa yells at his mother afterwards, but she remains unfazed by his emotions. Tsukushi ends up near the East River, where Rui Hanazawa mysteriously shows up. She pretends to act happy before asking "What are you doing here?" He answers "I was worried about you," leading to Tsukushi finally crying. Rui then holds her.[9]
Contents
See also: Boys Over Flowers/Chapters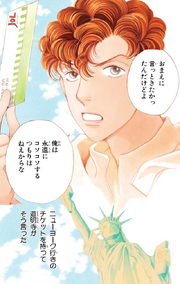 Editions
See also: Foreign editions of Boys Over Flowers
Videos
See also: Boys Over Flowers Highlights
Notes
The cover image originally served as the opening for chapter two hundred in Margaret No.13 of 2001.[17]
In one of the side-columns, Kamio talks about how "no more than a year has passed" in the series. She then says that she often gets letters asking about "when the story is taking place," but jokingly refuses to answer.
References
See also
External links