"Hello! I'm so glad we get to meet again. How time flies! This is Volume 28. This serial has been running for nine years. To those of you who have stuck with us from the very start, and to those of you who joined us midway... Thank you so very much! I will be so happy if you enjoy reading Volume 28."
—Yoko Kamio, 2001
Boys Over Flowers 28 (花より男子 28, Hana Yori Dango 28) is the twenty-eighth collected volume of Yoko Kamio's Boys Over Flowers. It includes chapters one hundred and eighty-two to one hundred and eighty-six and the one-shot, "Story of an Encounter." Shueisha published the volume on March 23, 2001.[1] It was released in English by Viz Media on February 12, 2008.[2]
After hearing Sojiro Nishikado's story, Yuki Matsuoka begins searching for the thing his first love, Sara Hinata, wanted him to see. Sojiro finally gets closure when he sees Sara's message. Meanwhile, Tsukushi Makino and Tsukasa Domyoji constantly have to avoid his family's secret police.
Book description
"Although Tsukushi Makino is from a poor family, she attends an elite school for the super rich, where her life has become intertwined with the "F4," the ruling boys of the school, in a whirlwind of love and confusion!
Tsukushi's friend Yuki is still fixated on Sojiro, a member of the F4. While struggling to understand him she immerses herself in a mysterious event from his past. Meanwhile, spies continue to track Tsukushi and Tsukasa's every move. The two of them will have to take some outlandish steps to outsmart the snoops and get some "alone time"!"
—Viz description[2]
Summary
Tsukushi Makino wakes up in the morning to discover Tsukasa Domyoji's apartment empty. At school, she overhears Tsukasa telling Akira Mimasaka and Sojiro Nishikado that he cannot sleep there. Tsukushi has not seen him for a few days when she catches him going his apartment in the middle of the night. He tells her that he can "come and go as [he pleases]," to which she declares "But this is my world!"[3] Tsukasa brings a crying Tsukushi into his apartment. She refuses to admit that she was lonely. Tsukushi then offers to "keep [him] company," but ends up falling asleep. Meanwhile, Yuki Matsuoka spends her nights looking for a certain building where Sojiro's first love wanted him to meet her.[4]
The following night, members of the secret police are posted outside Tsukushi's apartment. Tsukasa decides the safest place to hide is his home since the secret police are "scattered." Once they have both sneaked inside, Tsukasa if she is "tired of [their] relationship." She talks about the difficulties of that night but reveals that "[she is] not upset at all."[5] Tsukasa kisses Tsukushi and starts taking things further. She feels frightened by this sudden change. Tsubaki Domyoji then bursts in and becomes enraged, thinking that Tsukasa is forcing himself on Tsukushi. Shortly, they reveal that they are dating. Tsubaki is overjoyed, but reminds Tsukasa to be "more considerate" in regards to sex. He agrees to wait for Tsukushi.[6]
Sojiro is the heir to his family's style of tea ceremony. During his first year of high school, he often uses the line "one encounter, one chance" in pursuit of short-term flings. At home, Sojiro's family is dysfunctional. His brother left home a year before and his father has a mistress. Sojiro's "oasis" is his childhood friend, Sara Hinata. One day, Sara asks Sojiro to meet her at a certain time and place but he ignores it. The next morning, Sara waits outside his home to say "Goodbye." Sojiro later receives a letter from her, saying her "one encounter, one chance" was waiting for him that morning at that building. Even a year later, Sojiro still wonders what would have happened if he gone to her.[7]
After spending the night at Tsukasa's, Tsukushi feels exhausted. She receives a phone call from Yuki asking about Sojiro. Tsukushi spots Tsukasa and Rui Hanazawa, but neither have seen Sojiro that day. She decides to go searching for him and Tsukasa joins her. They end up searching until four-thirty. Yuki is telling them they can go home just as Sojiro happens to walk up. She rushes Sojiro to the building she found earlier. On the rooftop, Yuki points to the skyline where the names of two buildings are obscured. It is the message Sara wanted him to see, saying "Sukiya Jiro" ("I love Jiro"). Sojiro cries as Yuki offers him some comforting words. Meanwhile, Tsukasa shows Tsukushi two tickets to New York.[8]
Contents
See also: Boys Over Flowers/Chapters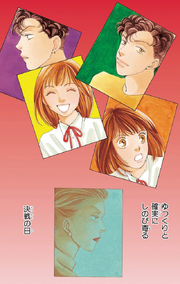 Editions
See also: Foreign editions of Boys Over Flowers
Videos
See also: Boys Over Flowers Highlights
Notes
The cover image comes from the title page of "Story of an Encounter," which was originally published in Margaret No.19 on September 5, 2000.[16]
This is the only volume to feature Sojiro on the cover by himself. It is also the fifth volume to not have Tsukushi on the cover; the others are volumes four, seven, ten, fifteen, and thirty-one.
In Viz's edition, the blurb on the back of the book mistakenly refers to Akira as the object of Yuki's affections instead of Sojiro.
References
See also
External links