"Hello!! This is Volume 27. I'm so happy to be with you all again. Lately, as far as I'm concerned... My life has been an indoors one. I've been hooked on an internet virtual pet game where you can raise a dog on your screen. I also write email and chat online. Everyday, I think "I'd better get out or I'm going to be in trouble.""
—Yoko Kamio, 2000
Boys Over Flowers 27 (花より男子 27, Hana Yori Dango 27) is the twenty-seventh volume of Yoko Kamio's Boys Over Flowers. It collects chapters one hundred and seventy-five to one hundred and eighty-one of the series. The volume was published in Japan on October 25, 2000 by Shueisha.[1] Viz Media released it in English on December 11, 2007.[2]
Tsukushi Makino finally confesses her feelings to Tsukasa Domyoji and does so in front of their friends. Later, Tsukushi and her brother move into a new apartment and Tsukasa begins renting the room next door. Meanwhile, Yuki Matsuoka decides to pursue Sojiro Nishikado.
Book description
"Although Tsukushi Makino is from a poor family, she attends an elite school for the super rich, where her life has become intertwined with the "F4," the ruling boys of the school, in a whirlwind of love and confusion!
Tsukushi makes a shocking announcement at a party! Then her parents move into a tiny apartment, forcing Tsukushi and her brother to get their own place--next door to someone she knows. And, Tsukushi's friend Yuki is becoming increasingly infatuated with Sojiro, one of the F4. Is she willing to compromise herself for what she thinks he wants?!"
—Viz description[2]
Summary
The Domyoji Secret Police begin forcing their way into Akira Mimasaka's summer home, where Tsukushi Makino and Tsukasa Domyoji are currently hiding. Tsukasa pushes Tsukushi through a window, while he stays behind to distract the men. The next day at work, Yuki Matsuoka reveals to Tsukushi that she has fallen for Sojiro Nishikado. Despite Tsukushi's assertions about him being a "playboy," Yuki knows that her feelings will not change.[3] After work, Tsukushi meets Tsukasa and apologizes for their fight the night before. He reminds her that she has not said I love you yet, which makes him insecure. Tsukasa then receives a phone call from Akira, inviting him and Tsukushi to a party at his house.[4]
During the party, Tsukushi and Tsukasa overhear Yuki confessing her feelings to Sojiro. He answers flippantly at first until Yuki insists that she is serious. Sojiro then says that he can date her and be intimate with her, but she will never get more than that. Yuki slaps him, before quickly apologizing. She reminds him of something he said and asks why he "hide[s] amongst all those other girls." Irritated, Sojiro leaves. Tsukushi then goes to comfort Yuki. However, she only asks for encouragement. Back to Tsukasa, he asks Tsukushi how long they will have to keep their secret. He becomes frustrated and goes inside. Tsukushi races after him and finally, in front of everyone, declares that she loves Tsukasa.[5]
Tsukushi faints after confessing her feelings for Tsukasa. When she wakes up, he teases her and then holds her as he says "I was so happy." Tsukushi learns shortly that Yuki has left. She becomes worried and decides to head to work. There Yuki expresses her happiness for her and reminds her to never "go off anywhere alone" like she did before.[6] That night, Yuki waits for Sojiro outside his home. She apologizes for the slap, though he answers flippantly again. Sojiro then tells her that dating her will be too much "trouble." Yuki suddenly asks for the "full course" and gives him her number. Later, Tsukushi tells Rui Hanazawa that her family is going to live separately now that her father has a new job.[7]
After moving into their new apartment, Tsukushi and Susumu Makino are frightened by a burglar. They speak to police and are then frightened by a knock at the door, which turns out to be Tsukasa. Tsukushi apparently called him by accident earlier. He leaves after making sure Tsukushi is alright. The next day, Sojiro decides to "scare [Yuki] a little" and calls to ask her on a date.[8] Meanwhile, Tsukushi discovers that Tsukasa has moved in next door. After he goes to the bath house with her and Susumu, Tsukushi thinks about how he has easily "come over to [her] world." Sojiro brings Yuki to a hotel after dinner. Seeing her tremble, he stops touching her. Sojiro then reveals that he had a girl whom he loved but hurt badly.[9]
Contents
See also: Boys Over Flowers/Chapters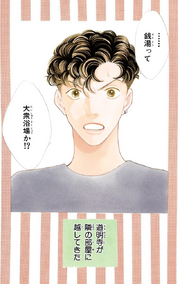 Editions
See also: Foreign editions of Boys Over Flowers
Videos
See also: Boys Over Flowers Highlights
Notes
References
See also
External links