"Finally, in this volume, we see some progress in the story and that's a great relief. These two... What will become of them is a mystery. I will keep drawing to the best of my abilities."
—Yoko Kamio, 2000
Boys over Flowers 26 (花より男子 26, Hana Yori Dango 26) is a volume of Yoko Kamio's manga series Boys Over Flowers, containing chapters one hundred and sixty-eight to one hundred and seventy-four. It was published on June 23, 2000 by Shueisha in Japan.[1] The volume was translated into English by Viz Media and released on October 9, 2007.[2]
Instead of going with Amon Kunisawa, Tsukushi Makino chooses to be Tsukasa Domyoji. She wishes to keep their relationship a secret for now, which he reluctantly goes along with. Later, Sojiro Nishikado and Akira Mimasaka lock Tsukushi and Tsukasa in Akira's guest house.
Book description
"Although Tsukushi Makino is from a poor family, she attends an elite school for the super rich, where her life has become intertwined with the "F4," the ruling boys of the school, in a whirlwind of love and confusion!
Tsukushi struggles to understand her feelings for Tsukasa, her on-and-off boyfriend, and he struggles to not destroy Tokyo. Will the man who came between them step aside? The meddlesome F4 try their hand at forcing Tsukushi and Tsukasa together. All the while Tsukasa's mother's spies are hot on their trail!"
—Viz description[2]
Summary
Tsukasa Domyoji finds Tsukushi Makino with Amon Kunisawa at a bus stop. He asks her not to go with Amon and confesses "I don't want anyone but you." Tsukushi is struck speechless. Amon criticizes him for not thinking of her happiness. In response, he yells at Tsukushi "I will make you happy." The bus arrives and Amon gently coaxes her onto it. Tsukasa runs after it while shouting her name. He eventually gives up and sits in the middle of the street. Tsukushi comes back for him. As they are about to grasp hands, a police officer seizes Tsukushi. An irate Tsukasa has to be held back by some other officers. Tsukushi tells Tsukasa to "come and get [her]" and smiles as she says "I've made up my mind."[3]
Tsukushi is quickly let out of jail and becomes annoyed when she learns that Tsukasa caused her arrest. She softens once he sheepishly admits "I couldn't find you anywhere." Next, she visits Amon who is a little harsh at first. He surprisingly calls Kaede Domyoji's secretary and informs him that he and Tsukushi are dating, which will buy her and Tsukasa some time.[4] Returning to Tsukasa, he holds her tight and leans in to kiss her. Their growling stomachs interrupt. After eating dinner, he proposes that they go to New York which she is firmly against. He questions if he got the "wrong idea again." Tsukushi realizes that Tsukasa needs her to clearly state her feelings. She is unable to and the night ends on an awkward note.[5]
The next day at school, Tsukushi brings Tsukasa to roof. She builds her courage as they are eating lunch to ask "Will you go out with me?" Tsukushi then tells Tsukasa that she wants to keep their relationship a secret from everyone, including their friends. He is completely against it, though agrees when Tsukushi explains that she is scared of being parted from him again.[6] The following day, Tsukushi meets with Amon. He reveals that they are under close watch by the Domyojis' secret police. She later goes to school and runs into Rui Hanazawa, who invites her to Akira Mimasaka's house. There Akira and Sojiro Nishikado trap her in the summer house. She finds herself alone with a tied up Tsukasa.[7]
Sojiro meets with Yuki Matsuoka to inform her about trapping Tsukushi and Tsukasa together. She tells him that she wants Tsukushi to be happy and her family will "band together" if need be. She then says that Sojiro made her stronger. He smoothly replies, before leaving with his date. Meanwhile, Tsukushi gradually becomes comfortable being alone with Tsukasa.[8] She attempts to bring up her conversation with Amon, but ends up asking Tsukasa how he became "good at kissing." He reveals his brief past with girls, making Tsukushi jealous. Now annoyed, she brings up Amon. Tsukasa becomes angry, feeling that she is not relying on him. Moments later, members of the secret police come looking for Tsukasa.[9]
Contents
See also: Boys Over Flowers/Chapters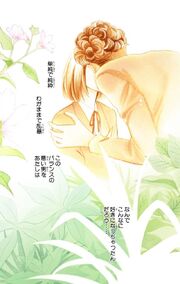 Chapter 168: Tsukushi Makino chooses to be with Tsukasa Domyoji. It was published in Margaret on October 20, 1999.[10]
Chapter 169: The chapter was first published in November 1999.[10] Tsukushi talks with Amon Kunisawa about her decision.
Chapter 170: Tsukasa is unsure of Tsukushi's feelings since she has not said them outright. It was released on November 20, 1999.[10]
Chapter 171: Tsukushi wants to keep her relationship with Tsukasa a secret. The chapter was published in December 1999.[10]
Chapter 172: It was published on January 5, 2000 in Margaret.[10] Tsukushi learns she and Tsukasa are being followed.
Chapter 173: Tsukushi and Tsukasa are locked in Akira Mimasaka's guest house. The chapter was released in February 2000.[10]
Chapter 174: released in Margaret on February 20, 2000.[10] Tsukasa becomes angry with Tsukushi for not confiding in him.
Side-columns: Yoko Kamio first says hello to the reader and then continues her anecdotes on going to the dentist. In the following column, she talks about visiting Taiwan for her first autograph session. Kamio discusses asking her assistant which F4 member they would prefer as a boyfriend, crying, and dying her hair in the other columns.
Editions
See also: Foreign editions of Boys Over Flowers
Videos
See also: Boys Over Flowers Highlights
Notes
References
See also
External links