"Hello, everyone! I'm very happy to meet you all again, whether you bought this book, borrowed it from a friend, or are reading it at the bookstore! Thank you very much! I'll be happy if you enjoy reading volume 24."
—Yoko Kamio, 1999
Boys over Flowers 24 (花より男子 24, Hana Yori Dango 24) is the twenty-fourth volume of Yoko Kamio's manga series, Boys Over Flowers. It was published in Japan by Shueisha on October 25, 1999.[1] The volume was released by Viz Media for North America on June 12, 2007.[2] It collects chapters one hundred and fifty-four to one hundred and sixty.
Tsukasa Domyoji's so-called cousin, Kiyonaga inserts himself into Tsukushi Makino's life. Tsukasa, meanwhile, meets his actual cousin who is not the same person. The next day, the fake Kiyonaga comes to their school. He exposes his lies, before claiming that he now likes Tsukushi.
Book description
"Although Tsukushi Makino is from a poor family, she attends an elite school for the super rich, where her life has become intertwined with the "F4," the ruling boys of the school, in a whirlwind of love and confusion!
Tsukushi has been unconscious for two days and wakes up in Tsukasa's cousin's home! This terrifying man saved her life and now he's courting her! What is the secret behind this mysterious cousin who so closely resembles Tsukasa, and what could be the reason for his intense hatred of Tsukasa? Why does Tsukasa not know anything about him?"
—Viz description[2]
Summary
Akira Mimasaka tells Tsukasa Domyoji about meeting someone who looks similar to him. Remembering what Tsukushi told him, Tsukasa asks Tama if he has a cousin around his age. Meanwhile, Tsukushi Makino wakes up in Kiyonaga's apartment. He informs her that she has been asleep for two days with a fever. Tsukushi feels nervous about being alone with him.[3] Kiyonaga insults her when he offers to date her and "pretend" to be Tsukasa. She slaps him and heads home, but he follows her. Thinking he is Tsukasa, her parents invite him inside. Around the same time, Tsukasa and Akira ask Shigeru Okawahara and Sakurako Sanjo about Kiyonaga. They convince him to apologize to Tsukushi for his hurtful words.[4]
Overhearing Tsukushi's father announce Tsukasa's arrival, Kiyonaga jumps from the balcony before they can come face-to-face. Once Tsukasa enters, he and Tsukushi bicker for several moments but he does apologize. Joining the others in the dining room, she informs Tsukasa about Kiyonaga's sudden escape. He becomes determined to "make him see [him]."[5] Later, Tsukasa asks his sister Tsubaki about their cousin. She speculates that Tsukushi choosing Kiyonaga may be the "right choice" since they both have faced hardship. Meanwhile, Kiyonaga visits Tsukushi to retrieve his shoes. He gives her a flower in reference to something she said. After he leaves, Tsukushi thinks that he is not "such an awful guy."[6]
Shigeru and Sakurako happen to meet the guys from the group date. They reveal that they were paid by Kiyonaga. Tsukasa, in the meantime, convinces Tama to take him to meet his cousin. He insists on taking the train, much to the others' surprise. Kiyonaga waits for Tsukushi outside her apartment. He asks her to "choose" him instead of Tsukasa.[7] Arriving at his cousin's, the person Tsukasa meets looks nothing like him. Akira realizes that if this is the "real Kiyonaga" then who is the guy around Tsukushi. Meanwhile, Kiyonaga tells Tsukushi that he is not related to Tsukasa but she does not believe him. He then gradually goads her into yelling her feelings for Tsukasa. Kiyonaga comforts her as she sobs.[8]
The following day at Eitoku Academy, Kiyonaga appears in front of Tsukushi and the F4. He reveals that he was hired by Kaede Domyoji to keep Tsukushi and Tsukasa apart. Akira questions his motivations for exposing himself now. Kiyonaga admits that he likes Tsukushi and wants to stop lying to her. An angry Tsukasa is clearly ready to fight. Tsukushi, who has remained mostly quiet, finally snaps and shouts at everyone "Quit tracking mud all over my life!" Once she is finished, she orders Kiyonaga to follow her. Tsukasa tells her "Don't tell me you won't have me, but you'll take that guy?!" She responds by calling him an "idiot." Outside, she punches Kiyonaga and demands for him to take her to Kaede.[9]
Contents
See also: Boys Over Flowers/Chapters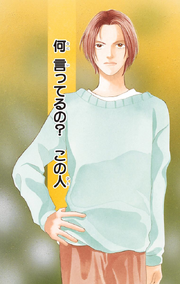 Editions
See also: Foreign editions of Boys Over Flowers
Videos
See also: Boys Over Flowers Highlights
Notes
The cover image originally served as the opening for chapter one hundred and sixty-five.[17] For the volume version, the illustration was split in half with Tsukushi on the front and Tsukasa on the back.
References
See also
External links