"Hello! This is the 23rd volume! I'm glad to see you again. My allergy to the sun is acting up again. Have you all been well? My cats are both well. And heavy... As usual, they keep interrupting my work. I'd be very happy if you would enjoy yourself reading volume 23. Please stay with me to the last page!"
—Yoko Kamio, 1999
Boys over Flowers 23 (花より男子 23, Hana Yori Dango 23) is the twenty-third collection of Yoko Kamio's Boys Over Flowers. It contains chapters one hundred and forty-seven through one hundred and fifty-three. Shueisha released the volume on June 25, 1999 in Japan.[1] It was published in English by Viz Media on April 10, 2007.[2]
Tsukushi Makino and her family return to Tokyo with the help of Tsukasa Domyoji and Rui Hanazawa. At school, she feels awkward around Tsukasa and avoids him. Sakurako Sanjo later drags Tsukushi and the other girls on a group date. They meet Kiyonaga, who looks exactly like Tsukasa.
Book description
"Although Tsukushi Makino is from a poor family, she attends an elite school for the super rich, where her life has become intertwined with the "F4," the ruling boys of the school, in a whirlwind of love and confusion!
Tsukushi ends her visit at her parents' quiet seaside home and returns to Tokyo. She is welcomed back with a "girls' night out" and ends up meeting a ton of guys! Unfortunately they all turn out to be losers. In fact, one of the boys turns out to be downright terrifying and bears a striking resemblance to a certain curly haired ex-boyfriend! Could they be related?!"
—Viz description[2]
Summary
Tsukasa Domyoji and Rui Hanazawa arrive at the fishing village and pay off the Makinos' debts. That evening, Matsutaro Yoshimatsu has a farewell party for Tsukushi on the beach. She feels awkward around Tsukasa, whom asks if she will return to Tokyo. Tsukushi replies "In time," leading him to angrily tell her how worried he was about her. He then pats her on the cheek, saying "Just come on back."[3] Matsutaro thinks Tsukushi is getting "happy ending." However, she and Tsukasa both confirm "It's over between us." The next afternoon, the Makino family decide to leave the village after all. On their drive out, Tsukushi watches Matsutaro reunite with his girlfriend.[4]
Tsukushi sleeps the entire way to Tokyo, where she is greeted warmly by her friends. After the guys depart, the girls go upstairs to Shigeru Okawahara's condominium. She gives the keys to Tsukushi, who refuses her offer at first. She is eventually worn down by Shigeru and accepts. That night, Shigeru, Sakurako Sanjo, and Yuki Matsuoka have a sleepover with Tsukushi.[5] The next morning, Tsukushi wakes up determined to help her family. She heads to school, where she avoids Tsukasa. Sakurako invites her out after school, promising to help her find a well-paying job. After school, they meet with Shigeru and Yuki for a group date. Tsukushi opposes it, but remains when Sakurako mentions the job.[6]
A guy on the date, named Kiyonaga, looks strikingly like Tsukasa. Tsukushi stares at him and becomes flustered when his friends ask if she has fallen for Kiyonaga. He starts smoking and she snatches it out of his mouth, resulting in him pouring water on her. The girls then promptly leave. Tsukushi is separated from her friends. Kiyonaga drags her into an alley and reveals that he is Tsukasa's cousin.[7] Tsukushi is frightened by him and gets away from him as soon as she can. She meets Tsukasa, whom she mistakes for Kiyonaga for a moment. He invites her to tea, saying "I need to talk to you." They sit down at a nearby diner. Just as Tsukasa is going to say what he wanted, Tsukushi spots Kiyonaga outside the window.[8]
Kiyonaga disappears when Tsukushi tries to point him out to Tsukasa. Though she insists that it was his cousin, he accuses her of making it up to avoid talking. Tsukasa leaves after she tells him that she met him on a group date. She chases after him. A hurt Tsukasa says "You two should get along well," causing her to cry. He then tells her "Even if you cry, there's nothing I can do for you." Finally, he informs her that she does not avoid him like she did earlier that day. Tsukushi returns the necklace he gave her, which Tsukasa throws in the river before leaving. She goes to retrieve it, ignoring the freezing water. Kiyonaga teases her from above, before going into the water and finding the necklace. Tsukushi then collapses.[9]
Contents
See also: Boys Over Flowers/Chapters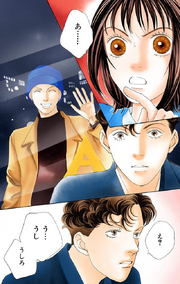 Editions
See also: Foreign editions of Boys Over Flowers
Videos
See also: Boys Over Flowers Highlights
Notes
References
See also
External links