"Hello! This is volume 22! I'm so happy to be with you again! By the way, it's almost the year 2000! I wonder about Nostradamus' predictions. When I was in primary school, I was so scared when I heard about his predictions that I couldn't sleep at night. Seeing as how I think nothing of it now, I must have become corrupted."
—Yoko Kamio, 1999
Boys over Flowers 22 (花より男子 22, Hana Yori Dango 22) is the twenty-second volume of Boys Over Flowers, a manga by Yoko Kamio. It collects chapters one hundred and forty to one hundred and forty-six. The volume was first published on February 25, 1999 by Shueisha.[1] It was released in English on February 13, 2007.[2]
After breaking up with Tsukasa Domyoji, Tsukushi Makino joins her family in the fishing village. She discovers that her parents are still having financial troubles. To help out, Tsukushi obtains a part-time job and meets an eccentric co-worker. Meanwhile, Tsukasa reverts to his old self.
Book description
"Although Tsukushi Makino is from a poor family, she attends an elite school for the super rich, where her life has become intertwined with the "F4," the ruling boys of the school, in a whirlwind of love and confusion!
Tsukushi has left her on-and-off boyfriend Tsukasa, his mansion, her school, and Tokyo altogether! Down and out, she heads for the seaside village where her family has gone to live and work. Unfortunately her parents are about to be run out of town. Just then, visitors from Tokyo arrive!"
—Viz description[2]
Summary
The F4 learn about Tsukushi Makino's disappearance from Kazuya Aoike. They go over to Tsukasa Domyoji's house to ask about it. His cold indifference bothers Kazuya who confronts him. Tsukasa grabs him and throws him across the room. His behavior frightens his friends, whom are reminded of how he used to be. Meanwhile, Tsukushi has boarded a train.[3] She has a hard time finding the fishing village, but is eventually reunited with her parents. Tsukushi learns that her family is not much better off than before and realizes she will not receive much help from them. Her mother even continues bragging to the villagers about Tsukushi dating Tsukasa after discovering the necklace he gave her.[4]
Tsukushi lies to her family by saying her school is having a long holiday. She does not tell them about Tsukasa or her leaving school. The misunderstanding among the villagers has grown from Tsukasa being her boyfriend to being her fiancé. One night, she goes to the beach to think about her situation. There a strange guy walks up to her and kisses her.[5] Tsukushi has to punch the guy twice before she can get away from him. In the morning, she asks her mother about him but she does not know of any young men in the village. Tsukushi obtains a job at a grilled corn stand. She discovers the guy, whose name is Matsutaro Yoshimatsu, is her co-worker. His laidback personality becomes an annoyance to her.[6]
Sometime later, Tsukushi snaps at Matsutaro when he shows her an article about Domyoji Group. Meanwhile, Sojiro Nishikado and Akira Mimasaka try to cheer up Tsukasa by inviting him out with some of their other friends. His cold attitude has not changed, resulting in a fight between him and Sojiro. Later, Tsukushi apologizes to Matsutaro. He tells her about his girlfriend, which reminds her Tsukasa. She cries, wondering "Tsukasa, have you forgotten me, already?"[7] The next day, Tsukushi is more cheerful and has become comfortable around Matsutaro. After work, he shows her an art piece he is working on. Though she does not understand it, she is impressed to learn that he is not actually a "no-account."[8]
Rui Hanazawa learns of Tsukushi's whereabouts through a news broadcast, which she happened to be in the background of. He tells Tsukasa to "go and bring her back," but he refuses. Back in the fishing village, Tsukushi and her family are confronted by the villagers whom are suspicious of her relationship with Matsutaro. Their landlady demands that they bring Tsukasa there, reminding them of the three hundred thousand yen they owe. Tsukushi's mother asks for one more day. Tsukushi reveals everything to her family once they are alone. In the morning, they are begging for more time when Tsukushi looks up to see Rui. She is even more shocked when Tsukasa arrives a few moments later.[9]
Contents
See also: Boys Over Flowers/Chapters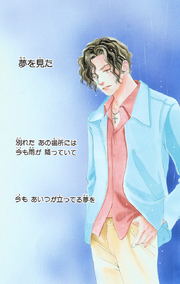 Editions
See also: Foreign editions of Boys Over Flowers
Videos
See also: Boys Over Flowers Highlights
Notes
References
See also
External links