"Hello! Are you all in good health? I caught a summer cold and I'm suffering from bronchitis. It's been seven years since I began this series, but this is the first time I've had such a high fever and have had to see a doctor everyday. Please take goo care of yourselves!"
—Yoko Kamio, 1998
Boys over Flowers 21 (花より男子 21, Hana Yori Dango 21) is a collection of the series, Boys Over Flowers by Yoko Kamio. The volume was released on October 23, 1998 in Japan.[1] It had a North American release on December 12, 2006 by Viz Media.[2] The volume collects chapters one hundred and thirty-three to one hundred and thirty-nine.
Kaede Domyoji returns to Japan and discovers Tsukushi Makino living in her home. Tama prevents Kaede from forcing her out, but only temporarily. Kaede ends up targeting Tsukushi's friends. To protect them, Tsukushi agrees to stop seeing Tsukasa Domyoji from now on.
Book description
"Although Tsukushi Makino is from a poor family, she attends an elite school for the super rich, where her life has become intertwined with the "F4," the ruling boys of the school, in a whirlwind of love and confusion!
Tsukasa's mother, Kaede, is back! Can Tsukushi really stay in the home of the woman with whom she is at war?! Kaede takes a new and vicious tack in her obsession to tear Tsukushi away from her upper class son. If Tsukushi can't be bribed, then maybe Kaede can destroy the lives of Tsukushi's friends! Tsukushi is forced to take extreme measures--but what course will she choose?!"
—Viz description[2]
Summary
Tsukushi Makino becomes nervous when she finds out that Kaede Domyoji has returned to Japan. Tsukasa Domyoji, on the other hand, only says "I'm sure it'll be okay." Tsukushi realizes that she cannot depend on the F4 and leaves the hotel with Yuki Matsuoka. She heads to Tsukasa's house to pack her things. On her way out, she is discovered by Kaede.[3] Tama steps in to protect Tsukushi, when Kaede demands for her to leave. She even threatens to be dead by morning, leading Kaede to back off. Tama brings Tsukushi back to her room and talks about Tsukasa's past, saying "You're the one who changed him, aren't you?" She then declares her plan for Tsukushi to have Tsukasa's baby.[4]
The next morning, Sakurako Sanjo and Kazuya Aoike comment on Tsukushi's "haggard" appearance. Tsukasa comes along and drags Tsukushi to the café she mentioned before. There he asks her if anything happened the night before, but she dodges the question. He suddenly declares "I'm leaving home." Tsukushi tries to be realistic, but Tsukasa feels that he can only protect her that way.[5] The two continue their date at a game center until Tsukasa accidentally breaks a machine. After rushing out, Tsukushi tells Tsukasa to "forget about leaving home." She explains that she wants them to be "equals," though she acknowledges that his resolve made her happy. Tsukushi then kisses Tsukasa.[6]
Tsukushi returns to school and mulls over kissing Tsukasa at the emergency exit. Rui arrives and asks about Tsukasa's mother. She reveals what happened, which makes Rui suspicious. He then warns that Kaede is likely to target her friends. Tsukushi rushes to Yuki's house, where she learns about her father's transfer. Next, she hears that Kazuya's family is going bankrupt. Tsukushi promises to fix everything.[7] Meanwhile, Tsukasa talks with Sojiro Nishikado and Akira Mimasaka, suggesting they fall in love instead "fooling around." At his house, Tsukushi has Kaede put things right before she agrees to stop seeing Tsukasa. She then calls Kaede "despicable" and makes a threat for her to leave her friends alone.[8]
Tsukushi packs her things again and leaves a note for Tama. In it she lies by saying that her parents are returning from the fishing village and she is leaving to reunite with them. Outside the Domyojis' gate, Tsukushi waits for Tsukasa to return home despite the pouring rain. He demands an explanation for her wanting to end their relationship. Eventually, she reveals that his mother is behind it but she has "made up [her] mind" anyway. Devastated, he asks "Have you ever seen me as just a guy?" She lies "If I loved you, I wouldn't be leaving like this" and walks away. Tears are pouring down her face when she meets Tama a short distance away. To herself, Tsukushi is finally able to admit that she loved Tsukasa.[9]
Contents
See also: Boys Over Flowers/Chapters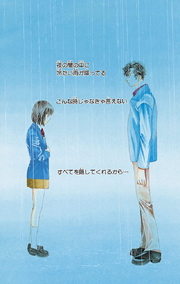 Editions
See also: Foreign editions of Boys Over Flowers
Videos
See also: Boys Over Flowers Highlights
Notes
References
See also
External links