"Hello! I'm happy to see you all again! Boy, volume 20 is out already... When volume 10 came out I thought: 'I sure hung in there. I think I can quit now.' That's how I felt then, and now it's volume 20 already. What has made me keep going like this? I think it is the support of all you readers. Thank you sincerely! I will keep going a little while longer!"
—Yoko Kamio, 1998
Boys over Flowers 20 (花より男子 20, Hana Yori Dango 20) is a volume of the manga series, Boys Over Flowers by Yoko Kamio. It includes chapters one hundred and twenty-six through one hundred and thirty-two. Shueisha published it on May 25, 1998.[1] The volume was released for North America by Viz Media on October 10, 2006.[2]
When Yuki Matsuoka discovers her boyfriend cheating on her, Sojiro Nishikado helps her get revenge. Sojiro later asks Yuki out on a date as an attempt to bring Tsukushi Makino and Tsukasa Domyoji together. His plan actually works as Tsukushi drags Tsukasa along to follow Yuki and Sojiro.
Book description
"Although Tsukushi Makino is from a poor family, she attends an elite school for the super rich, where her life has become intertwined with the "F4," the ruling boys of the school, in a whirlwind of love and confusion!
Tsukushi has agreed to be Tsukasa's girlfriend! But there's a hitch--she'll go out with him for only two months to see if she can truly love him. Tsukasa is off to a bad start when he ends up smacking the womanizing new boyfriend of Tsukushi's friend Yuki at the end of a double date, making Tsukushi furious. Then Sojiro of the F4 helps Yuki by exacting a little revenge on her playboy boyfriend, and the two wind up on a date together. Tsukushi is worried to death about Sojiro taking advantage of her good friend. The question is…who is using whom?"
—Viz description[2]
Summary
Tsukasa Domyoji storms off after punching Nakatsuka, who claims that he did nothing. Tsukushi Makino confronts Tsukasa, resulting in a rift between them. The following afternoon, she meets with Yuki Matsuoka, who has been unable to contact Nakatsuka. She insists that she is fine and tells Tsukushi to "hang in there" with Tsukasa.[3] Then the girls see Nakatsuka with another girl. Humiliated when he pretends not know her, Yuki runs off. Tsukushi remains behind to confront Nakatsuka and learns what really happened with Tsukasa, before punching him. Meanwhile, Sojiro Nishikado finds Yuki crying and brings her to his home. There he gives her a confidence boost and decides to help her "get revenge."[4]
Tsukushi searches the area for Yuki and calls Tsukasa from a pay phone to see if she has called his home phone. He informs her that he is over at Rui Hanazawa's. Tsukushi is about to hang up the phone, when Tsukasa asks her her location and tells her to stay put. Tsukasa arrives and informs her that he met Sojiro along the way and offers to help Tsukushi look for Yuki. Meanwhile, Sojiro and Yuki arrive at a night club that Nakatsuka frequents. She points out her now ex-boyfriend. Sojiro begins flirting with his date, who quickly dumps Nakatsuka. Sojiro then plays dumb and grabs Yuki instead, saying "I really love her." Nakatsuka shouts her name and Sojiro asks her if she knows him. Yuki says that she does not.[5]
Tsukushi and Tsukasa arrive in the middle of Sojiro confronting Nakatsuka. He threatens to hurt him if he ever makes Yuki cry again. Then Tsukasa knocks him out with a sleeper hold. Later that night, Sojiro and Yuki slip away while Tsukushi and Tsukasa bicker. Sojiro comes up with an idea and asks for Yuki's help. Meanwhile, Tsukasa expresses his worries about their relationship, leading Tsukushi to hug him.[6] The next morning, Tsukushi feels awkward about the hug and is unsure about her to act around him. However, the matter is immediately pushed from her mind after learning that Sojiro and Yuki have a date. Worried about what Sojiro may do, Tsukushi asks Tsukasa to go with her.[7]
Later, Tsukushi forces Tsukasa to follow Sojiro and Yuki on their date. They are unaware that it is actually a ruse devised by Sojiro to have the couple go on a regular date. After having dinner, Tsukushi promises Tsukasa that she will start thinking of their relationship "seriously." She then sees Sojiro and Yuki go into a hotel and accidentally pushes Tsukasa into the sea in her haste to follow them.[8] Tsukushi attempts to get a room next to Sojiro and Yuki's, but the concierge turns her away until Tsukasa arrives. Now in the room, she momentarily forgets about Yuki. In the hallway, Tsukushi and Tsukasa catches a brief glimpse of his mother before entering the other room, where the F3 and Yuki greet them.[9]
Contents
See also: Boys Over Flowers/Chapters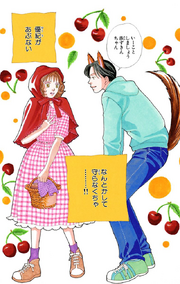 Chapter 126: first published on October 5, 1997.[10] Tsukushi Makino fights with Tsukasa Domyoji after he hits Nakatsuka.
Chapter 127: Yuki Matsuoka finds out that Nakatsuka is cheating on her. It was published in October 1997 in Margaret.[10]
Chapter 128: Sojiro helps Yuki get back at Nakatsuka by humiliating him. The chapter was released on November 5, 1997.[10]
Chapter 129: Tsukasa tells Tsukushi his worries for the future of their relationship. It was published in later November 1997.[10]
Chapter 130: released on December 5, 1997 in Margaret No.1.[10] Tsukushi is unsure how to act after spontaneously hugging Tsukasa.
Chapter 131: Worried about Yuki, Tsukushi follows her on her date with Sojiro. The chapter was released on January 5, 1998.[10]
Chapter 132: Following Yuki, Tsukushi and Tsukasa go into a hotel where they see his mother. It was published in February 1998.[10]
Side-columns: Yoko Kamio opens with thanking the readers for their support, crediting them as the reason she made it to volume twenty. She talks about her blood type, which she says affects her mood and therefore the story. Kamio also mentions her sister cooking for her and her assistants, and lastly, Boys Over Flowers being published in Taiwan and Korea.
Editions
See also: Foreign editions of Boys Over Flowers
Videos
See also: Boys Over Flowers Highlights
Notes
References
See also
External links