"Hello again! I'm Yoko Kamio! Thanks very much for buying Hana Yori Dango 2. I hope you enjoy it!"
—Yoko Kamio, 1993
Boys over Flowers 2 (花より男子 2, Hana Yori Dango 2) is the second collected volume of Yoko Kamio's Boys Over Flowers. It was first published on January 25, 1993 by Shueisha.[1] The volume was released in the United States by Viz Media on October 8, 2003.[2] It contains chapters six through eleven of the series and was followed by volume three in June 1993.[3]
Tsukushi Makino stands up to Yuriko Asai and her friends for bullying her. Later, the girls get back at her by revealing Rui Hanazawa's first love Shizuka Todo. Around the same time, Tsukushi's childhood friend Kazuya Aoike arrives at Eitoku Academy, making Tsukasa Domyoji jealous.
Book description
"Tsukushi continues to fight back against the F4 and protect an old friend who has also been given the infamous "red tag". Rui's old flame returns from France. Can Tsukushi really compete with this "perfect girl"? Meanwhile Tsukushi's resistance to the F4 seems like it might actually work!"
—Viz description[4]
Summary
Tsukushi Makino attends a party with Yuriko Asai, Minako Yamano, and Erika Ayuhara, whom spread a vicious rumor about her at school. After overcoming the initial shock, Tsukushi gets revenge and leaves the party. The next day, they show Tsukushi a magazine article about Shizuka Todo, Rui Hanazawa's first love.[5] Tsukasa Domyoji forces the girls to leave Tsukushi alone. He attempts to make amends with her, but she rejects his appeal, realizing it is his fault in the first place. She then runs into Akira Mimasaka and Sojiro Nishikado, who tell her about Rui and Shizuka during their childhood. Later, Tsukushi sees Rui kissing a poster of Shizuka. He mockingly asks her if she likes him, before kissing her on the cheek.[6]
Shizuka returns from France and greets Rui with an embrace the next day. Tsukushi, seeing the contrast between herself and Shizuka, decides to go back to her own world and vows to avoid the F4 from then on. Her friend from elementary school, Kazuya Aoike later transfers to Eitoku Academy. Tsukasa becomes jealous of Kazuya and gives him a red card.[7] Tsukushi confronts Tsukasa, leading to an explosive fight. Tsukasa slaps her without thinking and she punches him in retaliation. Returning to Kazuya, she tries her best to protect him. They are chased all around campus and eventually end up in the cafeteria of Eitoku University, causing a scene. The F4 and Shizuka are also there having lunch.[8]
When Rui saves Tsukushi, Tsukasa is angered. He kicks Rui out the F4 and declares that their friendship is over. Afterwards, Shizuka helps Tsukushi clean up in the girls' room. Tsukushi develops a fever, causing her to miss the next day of school. Tsukasa surprisingly visits her and offers to pay her ticket to Hawaii for Eitoku's summer school, which she rejects.[9] Tsukushi opts to go to Atami with Kazuya and her parents instead. At the beach, they are greeted by Tsukasa and his yacht. Shizuka invites her to a party they are having later. Tsukushi tries to refuse, but agrees due to Rui being there. That night begins like a fairy tale for Tsukushi. It, however, ends up being a disaster when she accidentally kisses Tsukasa.[10]
Contents
See also: Boys Over Flowers/Chapters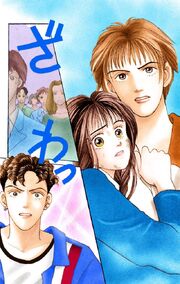 Editions
See also: Foreign editions of Boys Over Flowers
Videos
See also: Boys Over Flowers Highlights
Notes
References
See also
External links