"Hello! This is Kamio. It's the 19th volume. This is easily going to pass the 20 volume mark. Ha-ha-ha. But there is a change between these two in volume 19... (I don't know if this is for good or bad.) My readers often ask me lately: 'Will Tsukushi and Tsukasa get together? How will it end?' (Actually, I haven't even thought about it.)"
—Yoko Kamio, 1998
Boys over Flowers 19 (花より男子 19, Hana Yori Dango 19) is the nineteenth volume of Yoko Kamio's manga, Boys Over Flowers. It was first published by Shueisha on February 25, 1998.[1] The volume was translated into English by Viz Media and published on August 8, 2006.[2] It collects chapters one hundred and nineteen to one hundred and twenty-five.
After Tsukushi Makino begins working at Tsukasa Domyoji's house, he asks her to date him on a two month trial basis. Tsukushi agrees but soon becomes nervous about the relationship. To help, Yuki Matsuoka suggests for Tsukushi and Tsukasa go on a double date with her and her boyfriend.
Book description
"Although Tsukushi Makino is from a poor family, she attends an elite school for the super rich, where her life has become intertwined with the "F4," the ruling boys of the school, in a whirlwind of love and confusion!
When Tsukushi is left homeless, she has no choice but to become a maid in the mansion of her on-and-off boyfriend, Tsukasa. Not only that, but she becomes his own personal maid! Her duties include the dreaded task of waking him up in the morning, a job normally left to three people. Then Tsukasa orders her to come to his room unseen at midnight, causing Tsukushi to panic. Will this pull them closer together or push them further apart?!"
—Viz description[2]
Summary
Now that Tsukushi Makino is working as Tsukasa Domyoji's personal maid, she worries that he has the "wrong idea" and will try to take advantage of her. The next morning, Tama orders her to wake him up. When she does so, Tsukasa suddenly grabs Tsukushi though he later tells her it was a mistake. Heading to school on her own, Tsukushi meets Sojiro Nishikado and Rui Hanazawa. She ends up telling them about her situation. Though Sojiro promises to keep it a secret, the entire school has learned about it by the end of the day. Tsukasa makes it worse when he picks her up from her class after school. Sojiro and Akira Mimasaka wave to the couple, before making a bet on whether they will sleep together that night.[3]
Arriving home, Tsukasa asks Tsukushi to come to his room around midnight. She refuses but he tells her "If you don't come to me, I'm coming to you." Tsukushi is worried about his intentions and becomes distracted during work, but cannot think of a way out of the situation. Tsukushi joins Tsukasa for dinner that night. She tries to explain that he has the "wrong idea," but looks up to find him gone.[4] Back in her room, Tsukushi decides to just leave. As soon as she opens her door, Tsukasa walks in and sets up a telescope on her balcony. He shows her Saturn, before giving her a necklace modeled after the planet. Tsukushi feels she cannot accept it, but allows Tsukasa to place it around her neck. He then kisses her.[5]
Tsukushi stops Tsukasa when he attempts to go further than kissing. He asks "Did you hate kissing me?" and she answers "I didn't hate it." Feeling confident, Tsukasa says "Let's try to make a go of it." Tsukushi admits that her feelings for him are likely "only one-tenth" of what his are for her. Tsukasa promises to "make up for the missing nine" and asks her to go out with him as a two month trial.[6] In the morning, Tsukushi agrees to date Tsukasa. She wants to keep the relationship "low profile." However, by lunchtime, the entire school knows. This causes Tsukushi to feel nervous about the direction of their relationship. After school, she visits Yuki Matsuoka for advice. She suggests going on a double date.[7]
That night, Tsukushi asks Tsukasa to go on a date with her. He refuses to go when she informs him that it will be a double date. However, he joins Tsukushi just as shemeets with Yuki and her boyfriend, Nakatsuka. The atmosphere soon becomes tense due to Nakatsuka's constant rude remarks to Tsukasa, who manages to hold his temper.[8] At an amusement park, the two couples split up for a short time. Tsukasa's bad mood returns when they meet up with Yuki and Nakatsuka again. On his way from the bathroom, he sees Nakatsuka talking to some girls. He suggests for Tsukasa to come with him to meet the girls later. Angry, Tsukasa punches him just as Tsukushi and Yuki walk up.[9]
Contents
See also: Boys Over Flowers/Chapters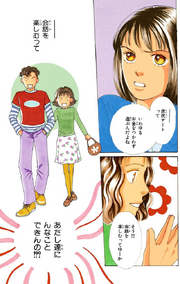 Chapter 119: Tsukushi Makino starts working as a maid at Tsukasa Domyoji's mansion. The chapter was released in June 1997.[10]
Chapter 120: published in Margaret on July 5, 1997.[10] Tsukushi becomes nervous when Tsukasa asks her to come to his room.
Chapter 121: Tsukasa gives Tsukushi a necklace and then kisses her. It was published in Margaret No.16 in July 1997.[10]
Chapter 122: After kissing, Tsukasa asks Tsukushi to date him on a trial basis. The chapter was released in August 1997 in Margaret.[10]
Chapter 123: Tsukushi agrees to date Tsukasa, but becomes nervous about its direction. It was published on August 20, 1997.[10]
Chapter 124: released in September 1997.[10] Tsukushi and Tsukasa go on a double date with Yuki Matsuoka and her boyfriend.
Chapter 125: The double date goes from bad to worse, thanks to Yuki's boyfriend. The chapter was released on September 20, 1997.[10]
Side-columns: In the first column, Yoko Kamio hints at the "change" between Tsukushi and Tsukasa in the volume. She talks in length about her vacation to Hawaii, in which she reveals her then new allergy to sunlight. Lastly, she discusses her dreams of owning a pet.
Editions
See also: Foreign editions of Boys Over Flowers
Videos
See also: Boys Over Flowers Highlights
Notes
References
See also
External links