"Hello! I'm happy to see you again. Here I am in volume 18 already... It's sure been a while. The animation is done but I haven't got time to relax. The manga version will still continue for a while. Please continue to support me!"
—Yoko Kamio, 1997
Boys Over Flowers 18 (花より男子 18, Hana Yori Dango 18) is the eighteenth collected edition of Boys Over Flowers by Yoko Kamio. It was initially published by Shueisha on October 24, 1997[1] and later by Viz Media on June 13, 2006.[2] The volume includes chapters one hundred and twelve to one hundred and eighteen.
Now living on her own, Tsukushi Makino declares war on Kaede Domyoji after she insults her. Later, she finds herself homeless when the floor of her apartment collapses. Tsubaki Domyoji invites her to live at her home. Tsukushi only feels comfortable with staying if she can work there.
Book description
"Although Tsukushi Makino is from a poor family, she attends an elite school for the super rich, where her life has become intertwined with the "F4," the ruling boys of the school, in a whirlwind of love and confusion!
When the Makino family's finances hit rock bottom yet again, they decide to move to the countryside so Tsukushi's father can earn a living as a fisherman. Poor Tsukushi is left behind in their apartment to try her hand at independent living. A few guests stop by, one most unwelcome--Tsukasa's mother! Tsukushi stands up to the domineering woman, effectively declaring war. Then a housewarming gift from the F4 wreaks havoc on the apartment, leaving Tsukushi homeless! Will anyone take her in?!"
—Viz description[2]
Summary
In the morning, Tsukushi Makino feels awkward when she sees Tsukasa Domyoji, who asks her to let Rui Hanazawa know he is leaving. She later says goodbye to Shigeru Okawahara and mentions Tsukasa's departure. Shigeru insinuates that she slept with Tsukasa. Arriving home, Tsukushi learns that her family is moving and leaving her behind.[3] Tsukushi bids farewell to her parents and brother. That night, she is visited by Shigeru. Thinking she wants to talk about Tsukasa, she says "I don't think I'll be able to help you much anymore." Shigeru reveals that she lied and that her engagement will be broken soon. She then tells her that she wishes to remain friends with Tsukushi, who tearfully agrees.[4]
Before leaving, Shigeru tells Tsukushi that Tsukasa actually loves her. She tries to not think about it at school the next day. Akira Mimasaka and Sojiro Nishikado learn that Tsukushi is living alone and invite themselves over to her place, along with Rui. There they are met by another surprise, Kaede Domyoji, who has come to confront Tsukushi. She stands up to Kaede.[5] Afterwards, the F3 ask Tsukushi about her plans for fighting back. She has no ideas yet, but they offer their support nonetheless. The following day, Tsukushi suffers a devastating blow after the floor of her apartment collapses. Now with nowhere to live and no money, she runs into her old friend, Seinosuke Amakusa.[6]
Seinosuke brings Tsukushi to his apartment, where he has been living alone. She confides in him about her recent problems. He asks her about Tsukasa, leading Tsukushi to admit "I don't dislike him, but I just can't open up my heart." Once she has fallen asleep, Seinosuke makes a phone call to the Domyojis' house where Tsukushi wakes up some hours later.[7] Tsubaki Domyoji invites her to stay there with her. Tsukushi is against it, despite Kaede being away on business. Tsubaki tells her about her own arranged marriage, which was traumatic though she is now happy with her husband. The next morning, Tsukushi thinks of an idea that will allow her to stay there with confidence.[8]
Tsukushi has decided to work for her keep, appearing in front of Tsubaki and Tsukasa dressed as a maid. Tsubaki disagrees with it, while Tsukasa fantasizes about Tsukushi taking care of him. Then Tama, the family's head maid, appears and declares it a good idea since they are short-handed. She pulls Tsukushi away and issues her several chores, already proving to be a strict taskmaster. Later, Tsukushi delivers tea to Tsukasa's room. He is under the impression that Tsukushi said she would fight his mother for "their sake." She tries to correct him, but Tsukasa moves in to kiss her. Tama suddenly interrupts, chastising Tsukushi and embarrassing Tsukasa. She suddenly decides to make Tsukushi his "own personal maid."[9]
Contents
See also: Boys Over Flowers/Chapters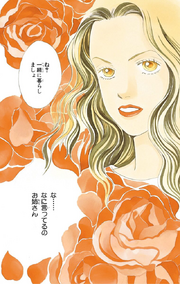 Editions
See also: Foreign editions of Boys Over Flowers
Videos
See also: Boys Over Flowers Highlights
Notes
References
See also
External links