"Volume 17 is finally out. Thank you very much for picking it up! At this rate, I think it might go on until volume 20. That's a long series, when you think about it. I know I've written this before, but it's thanks to your support that I've come so far! It's not an exaggeration to say that 'Boys Over Flowers' exists because of your support."
—Yoko Kamio, 1997
Boys Over Flowers 17 (花より男子 17, Hana Yori Dango 17) is the seventeenth volume of Yoko Kamio's Boys Over Flowers. It collects chapters one hundred and five to one hundred and eleven. Shueisha first released the volume on July 25, 1997 in Japan.[1] It was published by Viz Media for North America on April 11, 2006.[2]
Tsukasa Domyoji's new fiancée Shigeru Okawahara falls for him quickly. She also befriends Tsukushi Makino, who breaks things off with Tsukasa. In turn, Tsukasa starts dating Shigeru officially. Tsukushi, meanwhile, attempts to pretend that seeing them together does not bother her.
Book description
"Although Tsukushi Makino is from a poor family, she attends an elite school for the super rich, where her life has become intertwined with the "F4," the ruling boys of the school, in a whirlwind of love and confusion!
Tsukushi and Tsukasa get some quiet time together after they escape the mess of his birthday party, but this quiet can't last for long. Tsukasa's feelings for Tsukushi have at long last been made clear, but Tsukushi is more confused than ever about her feelings for him. Meanwhile, Tsukasa's domineering mother, Kaede, is brewing up plans to keep them apart forever, and she might have found just the thing to do it when she introduces him to his new fiancée!"
—Viz description[2]
Summary
After punching Tsukasa Domyoji, Shigeru Okawahara declares "I think I like you" and thinks she can fall in love with him. Akira Mimasaka and Sojiro Nishikado have to hold Tsukasa back to keep him from hitting her back. An angry Tsukushi Makino walks away in a huff as Tsukasa shouts at her to wait. Shigeru follows her and drags her to a tea shop, where she asks her questions about Tsukasa. Tsukushi assures her "There's absolutely nothing going on between Tsukasa and me, so you needn't worry." She then accidentally agrees to help Shigeru with him. Later, Tsukushi returns to school where she runs into Rui Hanazawa. She finds herself blushing when she remembers how much she used to like him.[3]
Tsukushi tries to keep Rui from coming closer and nearly falls over. He catches her, but lets go when he sees her flustered. On her way home, she meets Shigeru who takes her shopping. Tsukushi finds her pushy but "not so bad." Later that night, Tsukasa tries to explain everything to her. Tsukushi does not listen, instead saying "I think someone like [Shigeru] is what you need." He then slaps her.[4] The following day, Akira and Sojiro take Shigeru on a date to get her away from Tsukasa which fails. They later talk to Tsukushi, who reveals that she has broken things off with Tsukasa. That night, she finds Shigeru waiting outside her house. She cries as she tells Tsukushi that Tsukasa asked her to go out with him.[5]
Later, Tsukushi seems to have accepted that Shigeru and Tsukasa dating. She even congratulates him when they meet. The new couple meets regularly, but he shows her no affection or consideration. Shigeru goes to Tsukushi's house everyday to talk to her about Tsukasa. Tsukushi silently wonders why she has "to be forced to listen to this."[6] The next day, Tsukushi and Rui witness Tsukasa kiss Shigeru. Tsukushi refuses to acknowledge that it bothers her and throws herself into her job. After work, she runs into Rui and they decide to get tea. They are surprised when Shigeru and Tsukasa walk in and join them. Shigeru invites them to her family's villa. Rui says yes, forcing Tsukushi to go.[7]
At Shigeru's villa, she and Tsukushi head to the hot springs after dinner. She tells Shigeru "I'm happy for you about Tsukasa." However, Tsukushi does not really mean this. Shigeru soon notices that Tsukushi has passed out and screams for help. Tsukasa runs to save her, but Rui reaches her first. When she wakes up, Tsukushi discovers that she has to share a room with Rui.[8] Meanwhile, Tsukasa admits to Shigeru that he has been thinking of Tsukushi all day. She ends up throwing a chair through the window when he says "You're not the one." Shigeru yells and pushes him down. Tsukushi, alerted by the noise, finds them in this position and quickly leaves. Tsukasa tells Shigeru to hit him if she needs to. Instead, she starts crying.[9]
Contents
See also: Boys Over Flowers/Chapters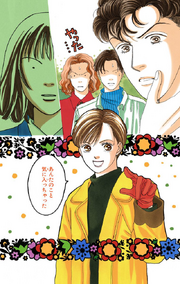 Chapter 105: Shigeru Okawahara decides to pursue Tsukasa Domyoji. It was released in November 1996.[10]
Chapter 106: Tsukushi Makino breaks things off with Tsukasa. The chapter was published on November 20, 1996 in Margaret.[10]
Chapter 107: published on December 5, 1996.[10] After wondering if he should give up on Tsukushi, Tsukasa asks Shigeru to date him.
Chapter 108: Shigeru visits Tsukushi everyday to get advice on dating Tsukasa. It was released in late December 1996.[10]
Chapter 109: Tsukushi pretends to be okay after seeing Tsukasa kiss Shigeru. The chapter was released on January 5, 1997.[10]
Chapter 110: released in February 1997 in Margaret.[10] Tsukushi finds herself at Shigeru's villa with Tsukasa and Rui Hanazawa
Chapter 111: Tsukasa tells Shigeru that he still has feelings for Tsukushi. It was published on February 20, 1997.[10]
Side-columns: Yoko Kamio thanks the reader, describes a "day in [her] studio," and names Seinosuke Amakusa as the guy she would pick to be her boyfriend if she had to choose. In the last column dated June 8, 1997, she talks about the anime ending.
Editions
See also: Foreign editions of Boys Over Flowers
Videos
See also: Boys Over Flowers Highlights
Notes
The color illustration used for this volume was originally on the cover of Margaret No.15 in July 1997.[17]
Kamio recorded the results of the series' second character poll in this volume. The results are: (1) Tsukasa, (2) Rui, (3) Tsukushi, (4) Sojiro, (5) Tsubaki, (6) Seinosuke, (7) Kazuya, (8) Akira and Haruo, (10) Shigeru.
Anime episode "Hurricane Approaching" aired two days after this volume was first published.
References
See also
External links