"Hello! This is Yoko! I'm so happy to see you again! This series has now gone into its 6th year. Wow... And that means I'm six years older now. But it seems to me I haven't matured much since I turned twenty. It's a little scary."
—Yoko Kamio, 1997
Boys over Flowers 16 (花より男子 16, Hana Yori Dango 16) is a volume of Yoko Kamio's Boys Over Flowers series. It was originally published by Shueisha in Japan on February 25, 1997.[1] The volume was translated into English and released by Viz Media on February 14, 2006.[2] Chapters ninety-eight through one hundred and four are collected in the volume.
Tsukasa Domyoji escapes his birthday party with Tsukushi Makino. They spend the rest of the night together on his family's yacht. Later, his mother attempts to bribe Tsukushi's family. When that does not work, she introduces Tsukasa and Tsukushi to his new fiancée, Shigeru Okawahara.
Book description
"Although Tsukushi Makino is from a poor family, she attends an elite school for the super rich, where her life has become intertwined with the "F4," the ruling boys of the school, in a whirlwind of love and confusion!
Tsukasa's 18th birthday doesn't go smoothly at all! Tsukushi is introduced to Kaede, Tsukasa's mother, by way of falling over a table and causing a scene. Kaede tells her to get out, but Tsukasa defends her by declaring that she is precious to him. Thus begins a three-sided war between the three most headstrong people you've ever seen! Tsukushi and Tsukasa get away for a while and spend some time on Tsukasa's boat, but they can't hide from Kaede forever..."
—Viz description[2]
Summary
The F4 lie to Tsukasa Domyoji's mother Kaede about Tsukushi Makino being the daughter of a company president. She is not able to keep up the lie for long under Kaede's shrewd eye. Kaede confronts Tsukasa, who says "What can I do?! I love her!" She slaps him. Seeing the situation worsen, Tsubaki Domyoji tosses Tsukasa some car keys and he escapes with Tsukushi.[3] In the car, Tsukushi asks Tsukasa where they are going. He then nearly hits a car. She hits her head and falls asleep for the rest of the drive. Tsukasa wakes her up after carrying her onto his family's yacht. They talk about his parents who he feels are like "strangers" to him. Meanwhile, Kaede receives a file on Tsukushi from her secretary Nishida.[4]
Kaede decides to implement her plan for Tsukasa's future early, being concerned for the family fortune. Tsubaki later asks Nishida about the plan, but he cannot say. Alone with a colleague, Nishida describes Kaede as frightening, saying "Her children are just more assets." Meanwhile, Tsukushi and Tsukasa are attempting to catch fish when she asks him why he loves her, despite her not having money, status, or beauty. He replies "I wonder the same thing myself, but love can't be figured out." When fishing yields nothing, Tsukushi remembers her gift for Tsukasa, homemade cookies. Tsukasa stares at them for several moments. He then grabs Tsukushi and kisses her, before exclaiming "I'm so happy!"[5]
After dropping off Tsukushi, Tsukasa happily shows off his gift to a groggy Rui Hanazawa. He ends up kicking Rui when he bites one of the cookies. Later, Tsukushi is awaken by her parents who reveal that Kaede has come. She tells them "I want Tsukushi to give Tsukasa up" and offers them fifty million yen in exchange. Tsukushi's mother pours a tub of salt on her and tells her to leave with her money.[6] She is proud of her for a moment until her mother says that she wants Tsukushi to marry Tsukasa to get all of their money. At work, Tsukushi talks about the situation with Yuki Matsuoka. She comes to the decision that she should end things with Tsukasa. Nishida arrives and asks Tsukushi to follow him.[7]
At The Maple Hotel, Kaede has gathered Tsukushi and Tsukasa to announce his engagement to Shigeru Okawahara. She asks Tsukushi "Do you understand now, how matters stand?" to which she answers "Yes." Tsukasa suddenly runs off with Shigeru, which he does not realize for quite a while. He ends up leaving her by herself, but not before she becomes interested in him.[8] The next day, Tsukushi confronts Tsukasa. She refuses to believe him leaving with Shigeru was a misunderstanding. Tsukushi then runs off and happens to meet Shigeru, who was curious about Tsukasa's school. He walks up shortly and starts yelling when he sees Shigeru. She punches him, saying "As your fiancée, it's my job to train you well!"[9]
Contents
See also: Boys Over Flowers/Chapters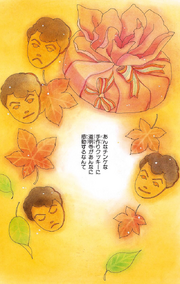 Editions
See also: Foreign editions of Boys Over Flowers
South Korea: Seoul Media Group released it in Korean on January 31, 1998.[12]
Videos
See also: Boys Over Flowers Highlights
Notes
References
See also
External links