"I recently celebrated my 100th installment. Whew! 100! I've been at this for 4-1/2 years, so I guess it's to be expected... but when you see the number written, it's kind of amazing! I've been able to continue so long because of all your support. It's not likely I'll reach 200 installments... but I'll keep drawing as long as I can!"
—Yoko Kamio, 1996
Boys over Flowers 15 (花より男子 15, Hana Yori Dango 15) is a collected volume of Boys Over Flowers, a manga written and illustrated by Yoko Kamio. It includes chapters ninety-one to ninety-seven of the series. The volume was published in Japan on November 25, 1996.[1] Viz Media published the book in English on December 13, 2005.[2]
Tsukushi Makino is kidnapped by Junpei Oribe and his accomplices, who all want revenge on Tsukasa Domyoji. He protects her by allowing the kidnappers to beat him up. A few days later, Tsukasa invites Tsukushi to his birthday party with plans to introduce her to his mother Kaede.
Book description
"Although Tsukushi Makino is from a poor family, she attends an elite school for the super rich, where her life has become intertwined with the "F4," the ruling boys of the school, in a whirlwind of love and confusion!
Junpei has promised to protect Tsukushi and always be there for her. His promise comes just in time, since Tsukushi has been given another of the infamous "red slips," the mark of someone targeted for abuse. Meanwhile, Akira and Sojiro are desperately looking for Tsukasa, who has been gone for days. It turns out that Junpei harbors a terrible grudge against Tsukasa and is using Tsukushi as bait to get him! This has shockingly violent results. Later Tsukushi gets dressed up and attends Tsukasa's birthday party. Little does she realize the implications that attendance has!"
—Viz description[2]
Summary
Junpei Oribe protects an unconscious Tsukushi Makino from some bullies. Once she wakes up, he lies and tells her that he ran away instead of fighting. He leaves briefly and finds Tsukushi missing when he returns. Meanwhile, Sojiro Nishikado, Akira Mimasaka, and Rui Hanazawa search for Tsukasa Domyoji at his house.[3] They finally find Tsukasa, who has no idea about Tsukushi receiving a red card. A messenger comes to the house with a lock of hair and an order for Tsukasa to go alone to the old gym behind the school. There Tsukushi is tied up. Junpei reveals himself to be the ringleader of the kidnappers. He tells her that he wants revenge on Tsukasa for hurting his friend.[4]
Tsukasa comes to save Tsukushi, despite her being so sure that he would not. He tells her to look away, before the guys start beating him up. Junpei asks him "You want to hit back?" Tsukasa makes a fist, but stops himself. Junpei goes to hit him with a chair. Tsukushi throws herself in front of Tsukasa, leading Junpei to leave with his accomplices. Tsukasa passes out after telling Tsukushi "This was the only way to protect you."[5] Later, Tsukushi wakes up in the hospital from a nightmare of Tsukasa dying. When she goes to his room, the F4 play a trick on her by pretending Tsukasa is actually dead. After the other guys leave, Tsukushi cries and confesses to Tsukasa about how scared she was of him dying.[6]
Junpei enters Tsukasa's hospital room. Tsukushi is scared that he has come to "finish him off," but he actually wants to apologize. She informs him that it is "too late," though she thinks to herself that she may forgive him someday. Sometime later, Akira and Sojiro put pressure on Tsukushi regarding Tsukasa's feelings for her. In order to get away, she tells them "Tsukasa's sort of like a dog."[7] After getting released from the hospital, Tsukushi tells herself "Maybe I can't run away from [Tsukasa] anymore." She returns to school in the morning. There Tsukasa invites her to his birthday party. Tsukushi worries about what present to give him. Yuki Matsuoka suggests something homemade, leading Tsukushi to bake cookies.[8]
Sojiro, Akira, and Rui greet Tsukushi when arrives at the party. They immediately take her to Tsubaki Domyoji to get a new dress. Tsukushi asks them "Is there something I should know about this party?" The F4 say "Tsukasa's mother is really scary." Tsubaki then tells her "If she finds out that Tsukasa has invited a girl..." and Akira interjects "She'll look at you as his fiancée." Tsukushi tries to leave after hearing this. Sojiro eventually convinces her to stay for Tsukasa's sake. She walks up to Tsukasa and wishes him a happy birthday. He tries to take her to meet his mother. Tsukushi resists which ends in her falling onto the buffet. His mother notices and orders her to leave, but Tsukasa tells her "This girl is precious to me."[9]
Contents
See also: Boys Over Flowers/Chapters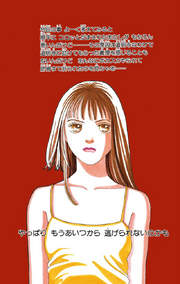 Chapter 91: released in Margaret on March 5, 1996.[10] Tsukushi Makino finds herself kidnapped by Junpei Oribe.
Chapter 92: Junpei reveals that he has been using Tsukushi to get revenge on Tsukasa. It was released in March 1996.[10]
Chapter 93: Tsukasa allows Tsukushi's kidnappers to beat him up in order to protect her. It was published in Margaret No.9 of 1996.[10]
Chapter 94: The chapter was originally released on April 20, 1996.[10] In the hospital, Tsukushi has a dream of Tsukasa dying.
Chapter 95: Junpei apologizes to Tsukushi, but she is not ready to forgive him yet. It was released in Margaret No.11 in May 1996.[10]
Chapter 96: Tsukushi worries over what to get Tsukasa for his birthday. The chapter was published on May 20, 1996.[10]
Chapter 97: It was released in June 1996.[10] At Tsukasa's party, Tsukushi meets his mother Kaede Domyoji for the first time.
Side-columns: Yoko Kamio writes about reaching one hundred chapters, the anime adaptation, and then answers some questions sent in by the readers.
Editions
See also: Foreign editions of Boys Over Flowers
Videos
See also: Boys Over Flowers Highlights
Notes
The illustration featured on the cover was created specifically by Kamio for this volume.[17] It is also the only cover on which Tsukasa appears by himself.
Anime episode "Love Beyond the Horizon" aired one day before this volume was published.
Kamio writes "It's not likely I'll reach 200 installments" in this volume. Boys Over Flowers ended up being well over two hundred chapters.
References
See also
External links