"First a CD book, next a novel, then a movie. I felt so honored by all that, and now they're animating this series! I've gotten so many letters from you, asking when the series would be turned into an anime. "That'll never happen." Well, that's what I thought. But it happened! I owe it all to your support."
—Yoko Kamio, 1996
Boys over Flowers 14 (花より男子 14, Hana Yori Dango 14) is the fourteenth volume of the manga series, Boys Over Flowers. Shueisha published it in Japan on September 25, 1996.[1] It was later translated into English by Viz Media and published on October 11, 2005.[3] The volume collects chapters eighty-four to ninety of the series.
Tsukushi Makino has a falling-out with Tsukasa Domyoji after he attacks her friend. It becomes worse when she becomes friends with Junpei Oribe. During an intense fight, Tsukasa confesses his feelings to Tsukushi again. A couple days later, she once again finds a red card in her locker.
Book description
"Although Tsukushi Makino is from a poor family, she attends an elite school for the super rich, where her life has become intertwined with the "F4," the ruling boys of the school, in a whirlwind of love and confusion!
Tsukasa's raucous behavior at Tsukushi's junior high school class reunion has her fed up with him once again. Tsukasa is crushed by this but is too stubborn to apologize. Later, Tuskushi is assaulted by two schoolgirls and then rescued by a "young nerdy boy" who turns out to be Junpei, a famous male model who has been dying to meet Tsukushi! Her dumb luck then gets her involved in a photo shoot with him, and she ends up on the cover of a famous magazine. This causes quite a scene at school, but not nearly as big a scene as when Tsukasa finds the two of them together!"
—Viz description[2]
Summary
After Tsukasa Domyoji attacked her friend, Tsukushi Makino yells at him. Tsukasa becomes angry and reminds her how he saved her in Canada. Crying, Tsukushi tells him "You'd never be able to understand." The following day, she goes to visit Shingo Oribe to check on him. She apologizes for what happened, admitting that she knows who attacked him. Shingo looks on it positively, happy that she came to see him. He takes a moment to reminisce about confessing his feelings to her back in middle school. Shingo then reveals that he now has a girlfriend. Tsukushi jokingly says "I shouldn't have wasted my time worrying about you." Seconds later, Shingo's younger brother Junpei Oribe enters the room.[4]
Junpei, who calls Tsukushi "Eitoku Academy's Joan of Arc," offers to walk her to the station. She finds him strange though "kind of fun." The next day, Akira Mimasaka and Sojiro Nishikado help Tsukasa practice apologizing to Tsukushi. She ignores him when she passes him by. Tsukushi then runs into Junpei, who looks completely different from usual.[5] He explains to her that he wears a disguise in order to avoid fighting with the guys at school. The F4 walk up. Tsukushi hides herself and Junpei. They start staying rude things about Tsukushi, leading Junpei to yell "Fool!" She quickly grabs him and runs off. Tsukushi ends up skipping classes for the day. Junpei asks her if she wants to be friends and she nods.[6]
Tsukushi learns that Junpei is a professional model under the name "Jun," when he brings her to a magazine shoot. He ropes her into taking a few photos, assuring her that they will not make it to print. One ends up being chosen for the cover. Tsukushi becomes so angry upon seeing it that she declares "I quit being your friend." Junpei starts to cry, leading her to take back her words.[7] An angry Tsukasa approaches them. Junpei goads him into fighting. First by calling him jealous and then asking Tsukushi "Do you love this guy?" Tsukasa punches him until Tsukushi shouts "I don't like anybody!" Tsukasa tells her "I love you so much it drives me insane." In shock, Tsukushi allows Junpei to steer her away.[8]
Thinking about Tsukasa's confession, Tsukushi wonders why he has continued to love her after she betrayed him. Junpei interrupts her thoughts by offering to walk her home. Someone attempts to hit Tsukushi with a potted plant. Junpei questions whether Tsukasa was behind it. The next day, Sojiro and Akira ask Tsukushi if she has seen Tsukasa which worries her.[9] After receiving another red card, Tsukushi becomes a target among her classmates, except Sakurako Sanjo and Kazuya Aoike who help her hide. Sakurako does not think Tsukasa actually sent her a red card and suspects Junpei instead. Tsukushi is eventually caught, but Junpei steps in and tells her "I'll protect you."[10]
Contents
See also: Boys Over Flowers/Chapters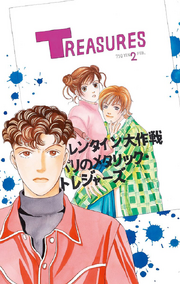 Chapter 84: first published on November 5, 1995.[11] Tsukushi Makino and Tsukasa Domyoji fight after he hurts her old friend.
Chapter 85: Tsukushi meets her friend's brother Junpei Oribe, who also attends Eitoku. It was released in November 1995.[11]
Chapter 86: Tsukushi agree to Junpei's friend. The chapter was released in December 1995.[11]
Chapter 87: published on December 20, 1995 in Margaret No.2.[11] Junpei, who works as a model, drags Tsukushi to a photo shoot.
Chapter 88: Tsukasa confesses his feelings to Tsukushi. It was published in January 1996 issue of Margaret.[11]
Chapter 89: It was released on February 5, 1996.[11] Tsukasa goes missing while Tsukushi continues to puzzle over his confession.
Chapter 90: Tsukushi receives another red card. The chapter was published in Margaret No.6 in February 1996.[11]
Side-columns: Yoko Kamio announces the anime version of Boys Over Flowers and writes about going to the studio and meeting the voice actors. She also includes two extra pages about her holiday in Italy.
Editions
See also: Foreign editions of Boys Over Flowers
Videos
See also: Boys Over Flowers Highlights
Notes
The illustration used for the cover of the volume was first published on the cover of Margaret No.9 of April 1996.[18] It was also republished in the complete edition of the manga.
The cover image inspired a promotional photo for Hana Yori Dango Returns in a magazine.
References
See also
External links