"Time flies. I'm already in volume 13! I'm so grateful to all you readers who've stuck with me 'til now. To think this story's been going on for four years... I can't quite believe it, considering how quickly I get bored. But I'm still having fun , so I think I'll be able to keep going for a while longer!"
—Yoko Kamio, 1996
Boys over Flowers 13 (花より男子 13, Hana Yori Dango 13) is a collected edition of Boys Over Flowers by Yoko Kamio. It was first published on March 25, 1996 in Japan[1] and was followed by volume fourteen that September.[3] The volume was republished in English on August 16, 2005.[2] It includes chapters seventy-eight through eighty-three of the manga.
Tsukushi Makino goes on a trip to Canada with the F4. Unluckily for her, Yuriko Asai and her friends tag along and trick her into going out during a blizzard. Tsukasa Domyoji saves her and brings her to a secluded cabin. She spends the night in his arms in order to survive the cold.
Book description
"Although Tsukushi Makino is from a poor family, she attends an elite school for the super rich, where her life has become intertwined with the "F4," the ruling boys of the school, in a whirlwind of love and confusion!
It's Tsukushi's first time abroad, and she and her friend Yuki plan to tear up the slopes on a Canadian snowboarding adventure. But how much fun can Tsukushi really have with Tsukasa and those nasty Eitoku Academy girls always hanging around? Not much, it seems, because Tsukushi is sent out on a wild-goose chase to rescue Yuki in below freezing temperatures. But who will rescue Tsukushi?!"
—Viz description[2]
Summary
Tsukushi Makino and Yuki Matsuoka arrive in Vancouver with the F4. Unfortunately, Yuriko Asai and her friends have invited themselves along. Tsukushi and Tsukasa Domyoji initially continue fighting, but their banter goes back to normal the following day on the slopes. Yuriko becomes jealous and later tricks Tsukushi by telling her that she saw Yuki go outside during a blizzard.[4] Tsukushi goes outside to find Yuki, not knowing that she is actually safe back at the house. She trips in the snow, spraining her ankle. Tsukushi is passed out when Tsukasa finds her. He carries her to a nearby ranger's cabin. Tsukasa starts a fire and tells her to take off her wet clothes. When she hesitates, he warns her about frostbite.[5]
Tsukushi takes off her sweater, before asking him "You're not planning to do anything, are you?" He yells "Is this any time to think about that?!" Tsukushi realizes she is being "stupid." They lay next each other by the fire for the rest of the night. In the morning, they are discovered by some Canadians. Tsukasa carries her back to his house.[6] He wants to punish Yuriko and her friends. Tsukushi, however, tells everyone to "forget it." Later, the girls reveal that they are unremorseful. Tsukushi decides to play a joke on them. She recruits the F4 to help her frighten them with a ghost story, which includes having Akira Mimasaka jump out at them. It seems to be working, when they hear footsteps that are not Akira's.[7]
Tsukasa jumps on the intruder. Once the lights are turned on, they realize that it is actually Shizuka Todo. She remains unconscious for the night and wakes up the next day. Shizuka reveals that she is in Canada on business. The F4 and Tsukushi leave her alone to talk to Rui. Ringing in the New Year, Tsukasa tells Tsukushi he loves her though she does not hear him.[8] Back in Japan a few days later, Tsukushi and Yuki meet a fortuneteller who gives her a warning about Tsukasa. The girls go to a middle school reunion the next day. Tsukasa is coincidentally there and overhears talk of Shingo Oribe having a crush on Tsukushi. He attacks him which leads to everyone running off. Tsukushi slaps Tsukasa.[9]
Contents
See also: Boys Over Flowers/Chapters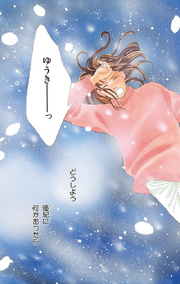 Editions
See also: Foreign editions of Boys Over Flowers
Videos
See also: Boys Over Flowers Highlights
Notes
References
See also
External links