"It's been a while–it's good to write to you again! Is it the end of the year already? A year can fly by so fast–but this year especially! I think it's mostly because of the big event–my story being made into a movie–but the editors have also been asking for more and more pages!"
—Yoko Kamio, 1995
Boys over Flowers 12 (花より男子 12, Hana Yori Dango 12) is a collection of chapters seventy-two to seventy-seven of Yoko Kamio's Boys Over Flowers. It was published in Japan by Shueisha on November 24, 1995. The volume was also the fourth to be published that year.[1] It was later released in North America by Viz Media on June 7, 2005.[2]
Teen of Japan comes to a close and Tsukushi Makino gently rejects Seinosuke Amakusa. She spends Christmas with Tsukasa Domyoji, resulting in a fight. Sojiro Nishikado decides to help them make up. He enlists the help of Akira Mimasaka and Rui Hanazawa in organizing a trip to Canada.
Book description
"Although Tsukushi Makino is from a poor family, she attends an elite school for the super rich, where her life has become intertwined with the "F4," the ruling boys of the school, in a whirlwind of love and confusion!
Tsukushi shocks everyone by making it all the way to the final competition in the Miss Teen Japanese Contest. Her striking individuality and dumb luck have gotten her a long way indeed! Now the field is narrowed down to Tsukushi and Ayano, the competition favorite. The final event will determine the girl most likely to become a "good wife and wise mother." Who is fit to judge such a contest? Why, twenty-one kindergarteners, of course! Unfortunately for Tsukushi, the innocent little darlings remind her of the F4...!"
—Viz description[2]
Summary
In the final round of Teen of Japan, Tsukushi Makino and Ayano Kurimaki have to play with a group of children, whom will decide the winner. Tsukushi has a slow start, while Ayano has an easy time entertaining them. Once Tsukushi wins over Ryusuke Hayama, the other children soon follow. Tsukushi invites Ayano to join them.[3] On stage, the children are asked to choose which girl is their favorite. Ryusuke and some others refuses to choose. The judges choose the winner based on overall points. Ayano is crowned, but Tsukushi is granted a special prize. Afterwards, she meets Seinosuke and gently rejects him. Tsukasa shows up and asks her to spend Christmas with him, instead of paying him back.[4]
Afterwards, the F4 and Kazuya Aoike take Tsukushi out to celebrate. She is nervous about spending Christmas with Tsukasa, wondering if he wants to take advantage of her. The next morning, Tsukushi finds Ryusuke waiting for her outside her house. After he tells her about his parents being overseas, she takes him to meet Tsukasa.[5] They first go to a café. Tsukasa is in a bad mood due to Ryusuke's prescence. There Ryusuke asks the pair if they are "lovers." He takes their reactions to mean that he has a "chance." Tsukasa proceeds to ridicule Ryusuke, causing him to cry. He softens slightly when Tsukushi tells him about Ryusuke's parents and acts much nicer to him at the zoo.[6]
Seeing Tsukasa's kind side, Tsukushi decides to ask him "Why do you bother with me?" Annoyed that she yet to realize her feelings, he calls her an "idiot." An argument ensues and they both storm off. That night, Sojiro Nishikado and Akira Mimasaka ask him about his date. Tsukasa promptly kicks them out. Sojiro then declares "I have an idea."[7] The next day, Sojiro invites Tsukushi and Yuki Matsuoka to Canada, where they will stay at Tsukasa's villa. Tsukushi is reluctant to accept, but stubbornly decides to go after receiving a call from Tsukasa who yells "If you go, I'm not going!" She and Yuki board the plane with the F3 a few days later. Rui Hanazawa points outside to another plane, revealing that Tsukasa is also going.[8]
Contents
See also: Boys Over Flowers/Chapters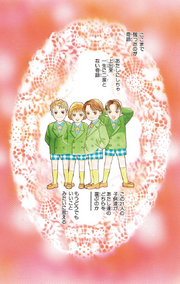 Editions
See also: Foreign editions of Boys Over Flowers
Videos
See also: Boys Over Flowers Highlights
Notes
References
See also
External links