Boys Over Flowers (Hangul: 꽃보다 남자; Hanja: 꽃보다 男子), or Boys Before Flowers, is a South Korean television drama based on the Japanese manga of the same name by Yoko Kamio.[1] It starred Ku Hye-sun as Geum Jan-di with Lee Min-ho, Kim Hyun-joong, Kim Bum, and Kim Joon as the F4.[2] It was directed by Jeon Ki-sang.[3]
The drama aired on KBS2 from January 5 to March 31, 2009 for twenty-five episodes.[4][5] It was a success, earning an average 30% viewership rating.[6][7] The series was followed by a four episode music drama in April 2009.[8] Boys Over Flowers was released on DVD in the United States by YA Entertainment.[9]
One day, Geum Jan-di (Ku) is offered a scholarship to Shinhwa School after saving the life of a student. The student was bullied because of the F4, four chaebol heirs, who control the school. Jan-di stands up to the F4's leader, Gu Jun-pyo (Lee). In a twist of fate, Jun-pyo ends up falling for her.
Summary
On a delivery for her family's dry cleaners, Geum Jan-di (Ku Hye-sun) saves a student (Jung Eui-chul) from jumping off the roof of the famously elite Shinhwa High School. Hoping to avoid further scandal, Kang Hee-soo (Lee Hye-young) orders her secretary Jung Sang-rok (Jung Ho-bin) to offer her a swimming scholarship to Shinhwa. Jan-di does not want to accept, having heard about the F4, but has to because of her family's insistence. The group, made up of Gu Jun-pyo (Lee Min-ho), Yoon Ji-hoo (Kim Hyun-joong), So Yi-jung (Kim Bum), and Song Woo-bin (Kim Joon), are the richest students and tyrannize the school. Jan-di tries not to get involved, but intervenes when Jun-pyo becomes angry at her new friend Oh Min-ji (Lee Si-young). Seeking revenge, Jun-pyo sends her a red card, a signal for the other students to start bullying her.[10]
When Jan-di is attacked by three students, Ji-hoo steps in to save her. Jun-pyo switches tactics, spreading a rumor online about a pregnant Shinhwa student. Jan-di confronts Jun-pyo, punching him and calling herself an "untouched virgin." Developing a crush on her, he attempts to impress her which she fails. He later tracks her down during vacation, bringing the whole Shinhwa gang with him as well as Ji-hoo's first love Min Seo-hyun (Han Chae-young).[11] That night, Jun-pyo falls into a pool. Jan-di rescues him and he pretends to be unconscious in order to receive a kiss. At Seo-hyun's birthday party, she announces her plans to return to France. Jan-di later sees her and Ji-hoo kiss. Jun-pyo saves her from the situation and takes her to a bar, where she gets drunk. Forced to take her to his house, Jun-pyo spends the next day hiding her from his mother.[12]
Cast and characters
Staff
Episodes
Main article: Boys Over Flowers (Korean drama)/Episodes
Episode 1 | 2 | 3 | 4 | 5 | 6 | 7 | 8 | 9 | 10 | 11 | 12 | 13 | 14 | 15 | 16 | 17 | 18 | 19 | 20 | 21 | 22 | 23 | 24 | 25
Production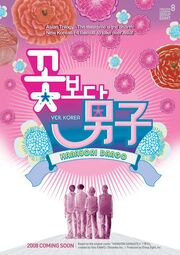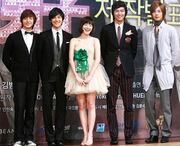 Group 8 announced in February 2008 their plans to produce a Korean version of
Boys Over Flowers
. Author
Yoko Kamio
and publisher
Shueisha
were impressed by the company's work on
Couple or Trouble
and
Goong S
, which led them to approve the project.
[14]
[15]
The series experienced some delays early on due to casting and organization difficulties. Additionally, production was handled completely outside the broadcast station,
KBS2
.
[16]
Director
Jeon Ki-sang
and writer Yoon Ji-ryun were announced in September 2008.
[17]
On October 2, 2008, the actors playing the F4 were revealed, including Kim Hyun-joong whose involvement was rumored months earlier.[18] Lee Min-ho was cast as Tsukasa renamed Gu Jun-pyo, and rounding out the F4 cast with Kim Bum and Kim Joon.[19] Ku Hye-sun's role as the female lead, Geum Jan-di (Tsukushi), was announced on October 6.[20] Despite a clause stating that the production had to retain the Japanese names, the characters were given common, localized names.[21][22]
In early December, Boys Over Flowers wrapped their overseas shooting in New Caledonia and Waiheke Island, and began filming in Macau.[23] A press conference was held on December 22 and was attended by the main cast and director.[24] Kamio was also there as an unannounced guest.[25] Boys Over Flowers premiered on January 5, 2009.[26] Due to its popularity, it was extended by one episode and concluded on March 31.[27][28] In April, a short music drama set five years later was released on Mnet's website.[29]
Home media
Cover
Release date
Contents
South Korea (DVD)
March 5, 2013[30]

9-disc set
16:9 aspect ratio
Language: Korean
Subtitles: English
Dolby Digital 2.0

Special features

Digest compilation
Making-of film

United States (DVD)
November 17, 2009[9]
December 15, 2009[33]

Set details

4-disc (set 1), 5-disc (set 2)
1.85:1 aspect ratio
Language: Korean
Subtitles: English

Special features

Color Photobook
Making-of & Interviews
F4 Talk Show
Music
The drama's opening theme song was "
Paradise
" by
T-max
.
Kim Joon
, who played
Song Woo-bin
, was a member of T-max.
Kim Hyun-joong's
band
SS501
performed the ending themes, "
Because I'm Stupid
" and "
Making a Lover
". The
first soundtrack
of the show was released on January 8, 2009,
[34]
followed by the
second
on March 6.
[35]
Music director Oh Joon-sung was criticized for the overuse of the songs in the drama.
[36]
Nevertheless, several songs on the soundtrack were popular and fared well on the music charts.
[37]
A mini-album, titled F4 Special Edition, was released on March 18, 2009. It features songs covered by the F4 actors.[38] A compilation album was released on October 13, 2011.[39]
Accolades
Gallery
Boys Over Flowers Wiki has a collection of images on this topic. (view gallery)
Videos
Notes
The seventeenth episode, which was suppose to air March 2, 2009, was delayed after Ku was in a car accident on February 27. Group 8 taped a special that aired in its place. It was hosted by Han Suk-joon and Hyun Young, who interviewed the F4 actors.[40]
References
See also
v - e - dBoys Over Flowers (2009)
External links
Community content is available under
CC-BY-SA
unless otherwise noted.