Boys Over Flowers (Hangul: 꽃보다 남자; Hanja: 꽃보다 男子), or Boys Before Flowers, is a South Korean television drama based on the Japanese manga of the same name by Yoko Kamio.[1] It stars Ku Hye-sun as Geum Jan-di with Lee Min-ho, Kim Hyun-joong, Kim Bum, and Kim Joon as the F4.[2] It was directed by Jeon Ki-sang.[3]
The drama originally aired on KBS2 from January 5 to March 31, 2009 for twenty-five episodes.[4][5] It was a huge success, earning an average 30% viewership rating.[6][7] The series was followed by a four episode music drama in April 2009.[8] Boys Over Flowers was released on DVD in the United States by YA Entertainment.[9]
One day, Jan-di (Ku) is offered a scholarship to Shinhwa School. The school is controlled by the F4, four chaebol heirs who change her life forever. Their leader, Gu Jun-pyo (Lee) falls for her and clumsily pursues a relationship with her. Jan-di develops a crush and later friendship with Yoon Ji-hoo (Kim), before ultimately falling for Jun-pyo.
Summary
| | |
| --- | --- |
| | This article, or a section of this article, needs to be expanded and/or cleaned up. You can help Boys Over Flowers Wiki by contributing. |
On a delivery for her family's dry cleaners, Geum Jan-di (Ku Hye-sun) saves a student (Jung Eui-chul) from jumping off the roof of the famously elite Shinhwa High School. Hoping to avoid further scandal, Kang Hee-soo (Lee Hye-young) orders her secretary Jung Sang-rok (Jung Ho-bin) to offer Jan-di a scholarship to Shinhwa. She does not want to accept it, having heard about the F4, but is forced by her family. The F4, made up of Gu Jun-pyo (Lee Min-ho), Yoon Ji-hoo (Kim Hyun-joong), So Yi-jung (Kim Bum), and Song Woo-bin (Kim Joon), are the school's richest students and basically act like tyrants. Jan-di tries not to get involved with them, but intervenes when Jun-pyo becomes angry at her new friend Oh Min-ji (Lee Si-young). He later sends her a red card, causing the others to start bullying her.[10]
After a vicious rumor is spread about Jan-di, she confronts Jun-pyo and kicks him in the face. He develops a crush on her and makes attempts to impress her, which all fail. During winter break, he tracks her down in his yacht. Jan-di also meets Ji-hoo's first love Min Seo-hyun (Han Chae-young), whom shows her kindness at the party that night.[11] Sometime after returning from vacation, Jan-di is invited to Seo-hyun's birthday party. There Seo-hyun announces her plans to return to France. Jan-di later sees her and Ji-hoo kiss. Jun-pyo saves her from the awkward situation and takes her to a bar, where she becomes drunk. In the morning, she wakes up in Jun-pyo's house. They spend the afternoon hiding her identity from his mother. Jan-di, in the meantime, begins seeing Jun-pyo differently.[12]
Cast and characters
Staff
Episodes
Main article: Boys Over Flowers (Korean drama)/Episodes
Episode 1 | 2 | 3 | 4 | 5 | 6 | 7 | 8 | 9 | 10 | 11 | 12 | 13 | 14 | 15 | 16 | 17 | 18 | 19 | 20 | 21 | 22 | 23 | 24 | 25
Production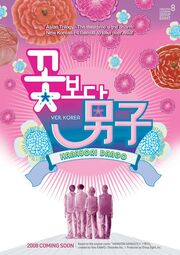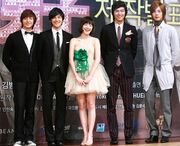 Group 8 announced production on a Korean version of Boys Over Flowers in February 2008. Author Yoko Kamio and her publisher Shueisha were impressed by their work on Couple or Trouble and Goong S, which led them to approve the project.[14][15] The series experienced some delays early on due to casting and organization difficulties. Production was handled completely outside of KBS2.[16] Director Jeon Ki-sang and writer Yoon Ji-ryun were announced in September 2008.[17]
On October 2, 2008, the actors playing the F4 were revealed, including Kim Hyun-joong whose involvement was rumored months earlier.[18] Lee Min-ho was cast as Tsukasa renamed Gu Jun-pyo, and rounding out the F4 cast with Kim Bum and Kim Joon.[19] Ku Hye-sun's role as the female lead, Geum Jan-di (Tsukushi), was announced on October 6.[20] Despite a clause stating that the production had to retain the Japanese names, the characters were given common, localized names.[21][22]
In early December, Boys Over Flowers wrapped their overseas shooting in New Caledonia and Waiheke Island, and began filming in Macau.[23] A press conference was held on December 22 and was attended by the main cast and director.[24] Kamio was also there as an unannounced guest.[25] Boys Over Flowers premiered on January 5, 2009.[26] Due to its popularity, it was extended by one episode and concluded on March 31.[27][28] In April, a short music drama set five years later was released on Mnet's website.[29]
Broadcast
Boys Over Flowers was broadcast by KBS2 on Mondays at 9:55 PM from January 5 to March 31, 2009.[26][30] The airing of the series' seventeenth episode was delayed from March 2 to March 3, allowing Ku to heal following a car accident. A special aired in its place. It was hosted by Han Suk-joon and Hyun Young, who interviewed the F4 actors.[31] Internationally, Boys Over Flowers has aired in 183 countries.[32]
Home media
Cover
Release date
Contents
South Korea (DVD)
March 5, 2013[33]

9-disc set
16:9 aspect ratio
Language: Korean
Subtitles: English
Dolby Digital 2.0

Special features

Digest compilation
Making-of film

United States (DVD)
November 17, 2009[9]
December 15, 2009[36]

Set details

4-disc (set 1), 5-disc (set 2)
1.85:1 aspect ratio
Language: Korean
Subtitles: English

Special features

Color Photobook
Making-of & Interviews
Music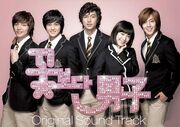 The drama's opening theme song was "Paradise" by T-max. Kim Joon, who played Song Woo-bin, was a member of T-max. Kim Hyun-joong's band SS501 performed the ending themes, "Because I'm Stupid" and "Making a Lover". The first soundtrack of the show was released on January 8, 2009,[37] followed by the second on March 6.[38] Music director Oh Joon-sung was criticized for the overuse of the songs in the drama.[39] Nevertheless, several songs on the soundtrack were popular and fared well on the music charts.[40]
A mini-album, titled F4 Special Edition, was released on March 18, 2009. It features songs covered by the F4 actors.[41] A compilation album was released on October 13, 2011.[42]
Reception
Boys Over Flowers was extremely popular in South Korea, particularly among teenagers. It received high viewership ratings for its regular broadcast and for its reruns.[43][44] The series ended up being extended by one episode because of its popularity.[27] Lee Min-ho became an overnight star.[45] The other main cast also benefited from the series' popularity, receiving numerous commercial and endorsement offers.[46] Boys Over Flowers influenced fashion trends for men, making "preppy" styles popular at the time.[47]
The series has also been successful internationally, airing in over one hundred countries.[32] In the decade after Boys Over Flowers original airing, the series has remained popular and is often regarded as a "classic."[48]
Ratings
Episode
TNS
AGB Nielsen
Source
Seoul
Nationwide
Seoul
Nationwide
1

14.4%

14.3%

13.8%

13.7%

[49]
2
17.4%
17.6%
16.1%
15.9%
[50]
3
21.1%
20.8%
17.2%
18.2%
[51]
4
21.6%
21.4%
17.8%
17.7%
[52]
5
24.3%
24.8%
21.4%
22.2%
[53]
6
24.6%
24.8%
23.4%
23.2%
[54]
7
19.1%
19.5%
17.4%
18.1%
[55]
8
25.3%
25.9%
22.1%
22.6%
[56]
9
29.4%
29.7%
24.9%
25.8%
[57]
10
30.2%
30.5%
25.6%
26.7%
[58]
11
31.8%
31.5%
25.6%
26.2%
[59]
12
31.2%
31.4%
27.0%
27.6%
[60]
13
31.5%
31.5%
27.7%
27.6%
[61]
14
32.0%
31.9%
26.8%
27.7%
[61]
15
32.3%
32.4%
28.5%
29.2%
[62]
16
32.9%
33.2%
30.0%
30.1%
[63]
Special
22.4%
21.8%
18.0%
18.1%
[64]
17
30.6%
29.9%
26.6%
27.3%
[65]
18

35.7%

35.5%

32.9%

33.3%

[66]
19
31.3%
31.2%
26.6%
26.3%
[67]
20
31.3%
31.2%
30.6%
31.2%
[68]
21
33.8%
33.6%
30.8%
31.3%
[69]
22
32.4%
31.8%
29.9%
30.8%
[70]
23
31.6%
31.8%
30.3%
31.7%
[71]
24
29.2%
30.2%
29.0%
30.1%
[71]
25
34.9%
34.8%

33.5%

32.7%
[49]
Average
rating

28.2%

28.2%

25.1%

25.6%

[64]
Adapted from Korean Wikipedia
Accolades
Gallery
Boys Over Flowers Wiki has a collection of images on this topic. (view gallery)
Boys Over Flowers Wiki has a collection of screenshots on this topic. (view category)
Videos
Notes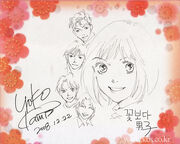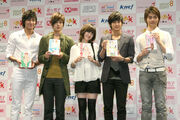 References
See also
External links