"Hello, everyone!! I'm Yoko Kamio. Can you believe it? Volume 37 of Boys Over Flowers is out."
—Yoko Kamio, 2008
Boys Over Flowers: Jewelry Box (花より男子 37, Hana Yori Dango 37) is the thirty-seventh and final volume of the manga series, Boys Over Flowers by Yoko Kamio. It was published in Japan by Shueisha on June 25, 2008[1] and by Viz Media on October 13, 2009 with the subtitle, "Jewelry Box".[2][3] The volume collects three short stories set after the events of the original series.
In the first story, Tsukushi Makino reunites with Tsukasa Domyoji in France for Shizuka Todo's wedding. The final two stories follow Rui Hanazawa as he contemplates whether he will ever fall in love again.
Book description
"Although Tsukushi Makino is from a poor family, she attends an elite school for the super rich, where her life has become intertwined with the "F4," the ruling boys of the school, in a whirlwind of love and confusion! Boys over Flowers officially ended with volume 36, but Yoko Kamio, one of the most beloved shojo creators of all time, just couldn't stay away from her beloved characters! Jewelry Box contains two short stories that take place one year after the end of Boys over Flowers volume 36. It also contains a section with some of the important events in the series that show the characters maturing, plus a special bonus strip!"
—Viz description[4]
Summary
| | |
| --- | --- |
| | This article, or a section of this article, needs to be expanded/cleaned up. You can help Boys Over Flowers Wiki by contributing. |
Tsukushi's story
Tsukushi Makino is about to graduate from Eitoku Academy, and accepts the fact that she cannot afford college. Not the least of her problems, Tsukushi has barely heard from her boyfriend, Tsukasa Domyoji since his graduation the previous year. At home, Tsukushi eats dinner with her family and Rui Hanazawa, when she receives a video call from Tsukasa. The call is accidentally disconnected and a misunderstanding arises. Determined to clear things up, Tsukushi flies to Paris with the rest of the F4 to attend Shizuka Todo's wedding. Tsukushi is sightseeing alone, when an unknown man attacks her. In the nick of time, Tsukasa saves her and they return to the church together. The couple reaffirm their relationship and Tsukasa informs her that he has paid for her college.[5]
Rui's story
Rui contemplates his life at his villa in Tuscany, Italy. Shortly later, Tsukasa meets up with Rui to tell him about his plans to propose to Tsukushi. He also tells Rui about a girl named Kimiko that he should meet. Rui tells Sojiro Nishikado and Akira Mimasaka about Kimiko and they decide to find her for him. Sojiro and Akira find no information on her, however Tsukushi knows a Kimiko in her class. Rui goes on a date with the girl, however he leaves after receiving an emergency call about Tsukushi.[6]
At the hospital, Rui makes an appointment for Tsukushi to have a CAT scan. Before the scan starts, Tsukasa bursts into the room, after receiving a panicky voicemail. Tsukasa proposes to Tsukushi, who refuses, explaining that she has something to clear up. Akira and Sojiro come to meet with Tsukasa and ask about Kimiko. Rui realizes that Tsukasa has once again mixed up his words, and was not actually talking about a girl. Rui laughs and later arranges for Tsukushi and Tsukasa to meet at the Leaning Tower of Pisa in Italy, where they finally become engaged. Meanwhile in Tuscany, Rui decides to keep the vineyards and hopes that one day he will be able to share a bottle of wine with his friends there.[7]
Content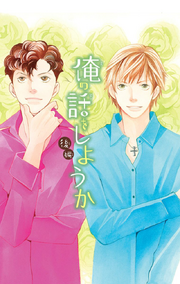 Treasure Box
Boys Over Flowers: A Story Full of Ups and Downs: a chronology and history of the series from 1992 to 2008.
The Characters Growing Up!: details the character development of Tsukushi and the F4.
Shall We Talk About the Extra Features: series creator Yoko Kamio talks about the stories in this volume as well as "Story of an Encounter" and "Night of the Crescent Moon".
Yoko Kamio's Manga Essay: Yoko Kamio draws a short manga showing how she choose Rui to be the main character of the two-part story.
Illustrations
Editions
See also: Foreign editions of Boys Over Flowers
Notes
The illustration was originally used on the cover of Margaret No.3-4 of January 2008, containing "Shall I Talk About Myself? Part 1."
It debuted at #2 on the Japanese comic rankings[17] and remained in the top three the following week.[18] It was among the best-selling manga in 2008, selling an estimated 815,648 copies.[19]
It was published three days before the release of the film, Hana Yori Dango Final.[20]
Despite Viz Media's edition being subtitled "Jewelry Box," it does not include the color illustration section for which it was named for.
References
See also
External links