| | |
| --- | --- |
| | This article, or a section of this article, needs to be expanded/cleaned up. You can help Boys Over Flowers Wiki by contributing. |
Boys Over Flowers has cemented itself in popular culture due to its successful adaptations, particularly in Asia. It has been referenced and parodied many times.
Parodies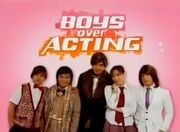 Allusions
Misc.
Models Godfrey Gao, Sphinx Ting, Victor Chen, and Lan Chun-tien were collectively called Fashion F4 (or Fashion 4) after appearing in a photo shoot together.[9]
Drama comparisons
Boys Over Flowers popularity has often lead to others dramas drawing parallels or comparisons.
The Heirs (2013) stars Lee Min-ho as another chaebol heir. The drama shares a few similarities to Boys Over Flowers, such as following a poor student attending an elite school.[10]
Güneşi Beklerken (2013), also known as Waiting for the Sun,[11] is a Turkish soap opera. It follows an ordinary girl whom stands up to her rich and priveleged classmate.[12]
Gakko no Kaidan (2015) has drawn comparisons to Hana Yori Dango due to it having a clique, the Platinum 8, whom bully the other students.[13]
Moon River (2015) is a Taiwanese drama that has been favorably compared to Hana Yori Dango and Boys Over Flowers. Besides having a familiar premise, it also shares similar scenes.[14][15]
Cinderella with Four Knights (2016) shares a basic premise with Boys Over Flowers. It follows a "Cinderella"-like female lead whom meets four handsome men. Star Ahn Jae-hyun also mentioned that it shared similarities to Boys Over Flowers.[16]
References
See also