Boys Over Flowers has on a couple occasions collaborated with brands to promote various products.
Biore

Biore (ビオレ, Biore), also stylized as Bioré, is a skincare brand owned by the Japanese company, Kao Corporation. The first product, "Biore Facial Foam," was sold in 1980. Kao has continued developing different kinds of makeup remover and face wash.[1] The brand has also expanded into other countries, including the United States.
Yoko Kamio hinted at the collaboration on her Twitter in June 2016.[2] Biore began the marketing campaign featuring Boys Over Flowers, particularly centered around the F4, in early August 2016.[3] They also posted advertisements in the Tokyo subway system.[4] Biore's website also had a quiz, which told customer which product to use with the F4's comments. No new images were used for the campaign.
Morinaga & Company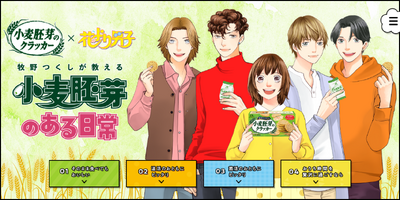 Morinaga & Company is a Japanese confectionary company based in Tokyo.[5] It was established in 1899.[6]
In October 2020, Morinaga used Boys Over Flowers characters to promote their product, wheat germ crackers (小麦胚芽のクラッカー, wheat germ crackers).[7] Their website includes new images of Tsukushi and the F4 by Kamio, and recipes inspired by scenes from the manga and supervised by dietician Yukari Igarashi (五十嵐ゆかり, Yukari Igarashi).[8][9]
References
See also
External links
Biore
Morinaga