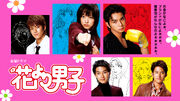 First published in 1992,[1] Yoko Kamio's manga Boys Over Flowers has spawned many adaptations, including an audio drama, a film, an anime, several television dramas, as well as musicals. Its sequel manga has also had its own adaptation.
The series' has gained international fame partially from its being adapted into television dramas. The first being Meteor Garden (2001), which was produced in Taiwan and followed by two sequels.[2] Hana Yori Dango (2005), from its home country, followed in 2005. It has a television sequel and a film sequel.[1] Next, the popular Boys Over Flowers from South Korea was released in 2009.[3] Most recently, a Chinese remake of Meteor Garden aired in 2018,[4] followed by a Thai adaptation in 2021.[5]
By country
Japan
Taiwan
Meteor Garden (2001): the series was the first television drama adaptation of Boys Over Flowers.[20] The drama propelled its five leads into super stardom,[21] compelling the four male leads to form the idol band, F4.[22] Meteor Garden was a huge success throughout Asia.
Meteor Rain (2001): a spin-off to Meteor Garden. Each episode of the series follows a different F4 member, except Vic Chou, though he does appear. It aired in late 2001, shortly after the end of Meteor Garden. Pally Chien, Aisa Senda, and Mai Sato guest starred in the series.
Meteor Garden II (2002): the sequel to Meteor Garden. Unlike its predecessor, the sequel is only partially based on Boys Over Flowers.[23] It aired on CTS in 2002.[24] The lead cast was joined by Michelle Saram, who played a rival to Barbie Hsu's Shan Cai.[25]
South Korea
Boys Over Flowers (2009): a Korean live-action television version of Boys Over Flowers.[13] The drama aired from January[26] to March 2009 for twenty-five episodes.[27] It starred Ku Hye-sun, Lee Min-ho, Kim Hyun-joong, Kim Bum, and Kim Joon as Geum Jan-di and the F4.[28]
Boys Over Flowers: The Musical (2017): a Korean version of the Japanese musical that premiered on February 24, 2017.[29] It featured a rotating cast, including Min, J-Min, Lee Chang-sub, Ken, and Lee Sung-min. Yumi Suzuki, who directed the original, went to Seoul to direct the new version.[30]
China
Thailand
Notes
References
See also
Boys Over Flowers adaptations