This individual was a beautician whom was well-known. He once visited Tsukasa Domyoji's home to give Tsukushi Makino a makeover.
Biography
At some point, he appeared in a magazine for his skills as a beautician. He was later hired by Tsukasa Domyoji to come to his house where he had a salon. There he fixed Tsukushi Makino's hair and make-up.[1]
Physical appearance
He had medium-length hair which he wore down. The beautician had a simple style, being seen wearing a plain shirt paired with a vest. He also wore a baseball cap and glasses with large frames.
Behind the scenes
Character notes
Portrayals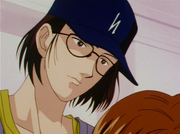 The beautician appears in two episodes of the Boys Over Flowers anime. His appearance in "No Brand Girl!" mirrors that of the manga. He is voiced by an unknown actor in "Cinderella for a Night." Tsukasa hired him to straighten his hair for a party. He tells Tsukasa that his hair is "stubborn," but manages to achieve the desired result.
He is played by Runa Saezuki and given the name, RUNA, in the musical Hana Yori Dango (2019).[2] Runa is first shown giving Tsukushi a makeover during "Metamorphoses." Tsukasa later makes a special request for Runa to straighten his hair at Shizuka's birthday party.
Appearances
Boys Over Flowers
Volume 2
Volume 3
Volume 4
Volume 5
Volume 6
Volume 7
Volume 8
Volume 9
Volume 10
Volume 11
Volume 12
Volume 13
Volume 14
Volume 15
Volume 16
Volume 17
Volume 18
Volume 19
Volume 20
Volume 21
Volume 22
Volume 23
Volume 24
Volume 25
Volume 26
Volume 27
Volume 28
Volume 29
Volume 30
Volume 31
Volume 32
Volume 33
Volume 34
Volume 35
Volume 36
Jewelry Box
Other
Boys Over Flowers (anime)
1
2
3
4
5
6
7
8
9
(Debut)
10
11
12
13
14
15
16
17
18
19
20
21
22
23
24
25
26
27
28
29
30
31
32
33
34
35
36
37
38
39
40
41
42
43
44
45
46
47
48
49
50
51
References
See also