Xu Wei Lun (Chinese: 許瑋倫; pinyin: Xǔ Wěilún, November 13, 1978 – January 28, 2007), also known as Beatrice Hsu, was a Taiwanese actress and musician. Hsu is best known for her roles in Online Hero, Love Storm, Nine-Ball, and Express Boy. In 2001, Hsu had a minor role as Ah Xiang in Meteor Garden.
Biography
Early life
Hsu was born Taipei, Taiwan on November 13, 1978. At the age of four, Hsu began studying the piano and harp. Her musical talent gained her acceptance at the Royal Academy of Music and Berklee College of Music. She decided not to attend either school in order to remain close to her mother.[1] Hsu graduated from Hwa Kang Arts School in 1997 and earned her BA in French at Tamkang University.
Career
In 2000, Hsu began appearing in music videos and commercials, while still attending university. She made her television debut with a small role in the hit 2001 drama, Meteor Garden.[2] The following year, she appeared in True Love 18 starring Ariel Lin. Hsu was nominated for Best Supporting Actress at the Golden Bell Awards for her performance.[3] The same year, she starred in Online Hero, while appearing in the ensemble dramas, Secretly Loving You and Spicy Teacher.
Hsu had a small role in the Hong Kong-Singaporean film, Turn Left, Turn Right in 2003. She also costarred with Ken Chu and Vic Chou in Love Storm that year. In 2004, she starred in Nine-Ball with Joe Cheng. Hsu also performed a duet with Gary Chaw for the Nine-Ball soundtrack. The following year, she starred in the romantic ensemble Double Jade Legend and the drama Express Boy with Mike He. Hsu went on to star with Singaporean actor Leon Jay Williams in Fly with Me (2007). Her final role was in The Sun's Daughter, which she was filming at the time of her death. Penny Lin took over the role.
Death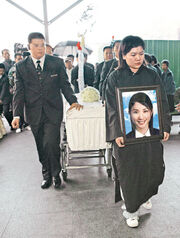 On January 26, 2007, Hsu was involved in a car accident on Sun Yat-sen Freeway. Hsu's car, driven by her assistant, hit a guardrail and spun into another lane, before being hit by a truck. She and her assistant were rushed to the hospital in Taichung. Hsu had serious head and chest wounds and slipped into a coma, while her assistant suffered light injuries.[4][5] On January 28, her condition worsened at 5:09 PM, when she went into cardiac arrest. Doctors were unable to revive her after two hours of emergency treatment. Forty-three hours after being admitted, Hsu passed away at 7:37 PM at the age of twenty-eight.[6]
Hsu's family held a closed funeral on February 8, 2007. Many of her colleagues and friends were in attendance, including Joe Cheng, Mike He, Cyndi Wang, Ariel Lin, Penny Lin and Rainie Yang.[7] A memorial concert was held for fans to honor Hsu on February 9.[8]
Personal life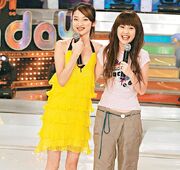 While filming Six Friends in 2001, Hsu met and began dating Lee Wei. However, due to a policy with Wei's agency, the couple was not able to make their relationship public at the time. After breaking up with Wei, Hsu started dating Love Storm costar Vic Chou. She and Chou broke up in 2004.[2] Wei often posts about Hsu on her birthday.[9][10]
Hsu was close friends with Rainie Yang, whom debuted around the same time. The two had a misunderstanding a few months before Hsu's death and Yang regrets not apologizing.[11] Yang periodically posts tributes to Hsu on her birthday, usually on Sina Weibo. For example, in 2017, Yang lamented how time flies and that she still misses her friend.[12] Hsu was also close to Ariel Lin, whom she met through Yang.[13]
Filmography
Television dramas
Year
Title
Role
Notes
2001
Meteor Garden
Ah Xiang
Episode 15
2002
Six Friends
Herself
Guest
True Love 18
Zhang Jing Yi
Purple Corner
Herself
Secretly Loving You
Li Qian
Online Hero
Wu Shuang Shuang
2003
Spicy Teacher
Xu Wei Wei
Love Storm
Ma Jing Jing
Lao Po Da Ren
Xiao Ke
Scent of Love
Wang Yi En
2004
Nine-Ball
Shao Fang Yin
I Love My Wife
Herself
2005
Taipei Family
Guo Run Run (older)
Double Jade Legend
Liao Xiu Jing
Express Boy
Su Rong Rong
2007
Fly with Me
Cheng Feng
The Sun's Daughter
Yin Si Jia
Episodes 1-2
Films
Notes
She and Wallace Chung had a supporting roles in Secretly Loving You (2002).
She was in Spicy Teacher (2003) as a part of the third generation of students. Jerry Yan, Ken Chu, Blue Lan, Lin Zu En, and Lee Wei appeared in the series during the first generation.
Hsu appeared in Love Storm (2003) which starred Vic Chou and Chu.
References
External links