Xu Xi Yuan (Chinese: 徐熙媛; pinyin: Xú Xīyuàn, born October 6, 1976 in Taipei, Taiwan), also known as Barbie Hsu and Big S (大S Dà S), is a former Taiwanese actress, singer, and television host. She is a former member of the mandopop band ASOS with her sister, Dee. Hsu has been inactive as an actress since 2012, but still retains a presence in show business through modelling and variety shows.
She is best known for her portrayal of Dong Shan Cai in Meteor Garden and Meteor Garden II.
Biography
Early life
Barbie Hsu was born on October 6, 1976 in Taipei, Taiwan to Huang Chun Mei (黃春梅) and Xu Jian (徐堅; 1953 – 2012). Hsu has an older sister Xu Xi Xian (徐熙嫻), and a younger sister Dee Hsu (born June 14, 1978).
Career
Hsu formed the band SOS ("Sisters of Shu") with her sister Dee in 1994. They released their first album Zhanling Nianqing (佔領年輕), while attending Hwa Kang Arts School.[1] After graduating in 1996, they changed the name of the band to ASOS (徐氏姊妹; "A Sisters of Shu") for legal reasons.[2] In the late nineties, the sisters began hosting variety shows, including Guess[3] and 100% Entertainment. ASOS released their final album together, titled Biantai Shaonu (變態少女) in 2001.[1] In 1998, Hsu had her television debut in TVBS-G's Musical Love Story (音樂愛情故事) with Harlem Yu. A small role in Six Lines of Youth (2001) followed.
In 2001, Hsu starred as Dong Shan Cai in the popular idol drama Meteor Garden opposite Jerry Yan and Vic Chou.[4] She was nominated for a Golden Bell Award for her performance.[5] Hsu reprised her role in the 2002 sequel, Meteor Garden II.[6] The following year, she starred in Eternity: A Chinese Ghost Story, a period drama based on Chinese folktales.[7][8] In 2004, Hsu starred alongside Blue Lan in the third segment of the anthology series Say Yes Enterprise[9] and with Meteor Garden costar Vic Chou in Mars.[10] She had her film debut in the horror flick The Ghost Inside in 2005.[11] Her next film Silk, also in the horror genre, was screened at the 2006 Cannes Film Festival.[12]
In 2007, Hsu starred in the television drama Corner with Love, costarring Show Lo.[13] The following year, she appeared in two films, My So Called Love (愛的發聲練習)[14] and Connected, the latter being her first Hong Kong film.[15] Hsu starred opposite Louis Koo again in the comedy film On His Majesty's Secret Service, which premiered in 2009.[16] In 2010, she was the lead in Summer's Desire, an idol drama costarring Peter Ho and Huang Xiaoming.[17] The same year, Hsu also appeared in Hot Summer Days,[18] Future X-Cops,[19] Reign of Assassins,[20] and Adventure of the King.[21] The next year, she starred in the period film My Kingdom.[22] Hsu's latest film roles include Million Dollar Crocodile[23] and Motorway both released in 2012.[24]
Personal life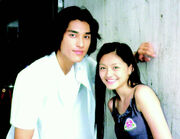 After filming Meteor Garden, Hsu began dating Blue Lan. They broke up in 2005.[25][26] She dated Meteor Garden costar Vic Chou from June 2005 to January 2008.[27][28]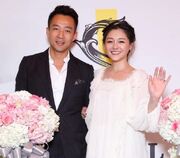 Hsu married entrepreneur Wang Xiao Fei (汪小菲) in a civil ceremony in Beijing on November 16, 2010.[29] They later held a wedding banquet in March 2011 on Hainan Island.[30] After trying to conceive for two years, she gave birth to a daughter, Wang Xi Yue (汪希玥) on April 24, 2014.[31] The couple welcomed their second child, a son named Wang Xi Lin (汪希箖), on May 14, 2016. Hsu fainted while giving birth due to the pain of the contractions, which also caused her epilepsy to flare up.[32]
In late March 2018, she was hospitalized for an epileptic fit caused by a cold. Two weeks later, Hsu announced her third pregnancy.[33] She terminated the pregnancy in May, after doctors confirmed that the embryo was not viable.[34] In June 2021, Hsu revealed her intentions to divorce Wang.[35] The couple officially announced their decision to file for divorce in November of the same year. Hsu cited their different values as one of the reasons for divorce.[36]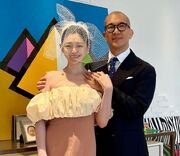 On March 7, 2022, Hsu confirmed that she had married South Korean DJ Koo Jun-yup.[37] The couple had previously dated for a year before breaking up in 1999.[38] Koo contacted Hsu after her divorce and they reconnected. They decided to marry without a wedding ceremony.[39] The pair registered their marriage in Korea first, which allowed Koo to travel to Taiwan on a spousal visa.[40] On March 28, they registered their marriage in Taiwan.[41]
Filmography
Television dramas
Films
Notes
As the older sibling, she is nicknamed "Big S" while her younger sister Dee is called "Small S". Despite the nickname, the Hsu sisters actually have another older sister who is not in show business.
Hsu has several tattoos, the latest being an angel wing that she got in July 2017.[46] Two tattoos, a six-pointed star and a flower, can be spotted several times throughout Meteor Garden. A third one on her ankle is also visible in certain scenes.
She is a big fan of Takuya Kimura and has followed his career since she was fourteen.[47]
She voiced Helen Parr (Elastigirl) in the Taiwanese dub of The Incredibles and its sequel, while her sister Dee voiced Mirage.
References
External links