Arthur Smith (アーサー・スミス, Āsā Sumisu) was a world-renowned designer. He participated in the Teen of Japan as a judge. A translator helped him during the contest, because he only spoke French.
Biography
A famous fashion designer, Arthur was asked to be judge in the Teen of Japan contest. In the first round, the girls were asked to show off their personality through fashion. Arthur was unimpressed with most of the contestants, calling them "too conventional." Upon seeing Tsukushi Makino, Arthur jumped up and declared "Tre bien." He then shouted "This is the girl I've been waiting for!" Arthur continued praising Tsukushi, but his translator stopped translating since the results had to be announced.[1]
Physical appearance
His hair was short on the left side and slightly longer on the right. He also had a thin mustache and two earrings in his left ear. Smith wore a simple shirt and blazer.
Behind the scenes
Character notes
Portrayals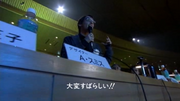 He appears in the ninth episode of Hana Yori Dango (2005). Like in the manga, he excitedly shouts "Trè bien!" and "This is the look I've been searching for!", when he sees Tsukushi's outfit. She automatically passes to the next round due to his approval.[2]
Takarazuka Revue actress Mitsuki Haryu plays Arthur in the musical, Hana Yori Dango (2019). Haryu also plays two other characters.[3] Though he is still a foreigner, Arthur can speak Japanese and does not need an interpreter in this version.
Appearances
Boys Over Flowers
Volume 1
Volume 2
Volume 3
Volume 4
Volume 5
Volume 6
Volume 7
Volume 8
Volume 9
Volume 10
Volume 12
Volume 13
Volume 14
Volume 15
Volume 16
Volume 17
Volume 18
Volume 19
Volume 20
Volume 21
Volume 22
Volume 23
Volume 24
Volume 25
Volume 26
Volume 27
Volume 28
Volume 29
Volume 30
Volume 31
Volume 32
Volume 33
Volume 34
Volume 35
Volume 36
Jewelry Box
Other
References
See also