The title of this article is conjectural. Although it is based on canonical information, the actual name is conjecture and may be supplanted at any time by additional information.
"Your father didn't call me from France yesterday. I wonder if he's stopped loving me. He told me that he would love me forever."
—Akira's mother has a tendency to overeact
Mimasaka (美作, Mimasaka) was the mother of Akira, and twins, Emu and Memu. She was married to her husband, who operated a trading company. Mimasaka had a youthful appearance for her age as well as a childish personality. Akira often had to take care of her, such as calming her down when she overreacted to things.
Biography
Early life
Mimasaka married her husband, the owner of a successful trading company. At age twenty, she gave birth to their son Akira. Several years later, she had twins Emu and Memu.[1]
Adult life
By age thirty-eight, Mimasaka retained her youthful appearance and personality. Her husband traveled abroad for his work a lot, leading her to worry whether he still loved her. Despite this not being the case, she often brought her worries to her son. Akira then calmed her down by convincing her to contact her husband.[2] One day, Akira brought over Tsukushi Makino to their house. His mother noted that it was the first time he had brought a girl there. She then asked Akira whether he was sure he did not want to go to visit his father in Spain. He said no. She left shortly with the twins, whom cried since they wanted to stay with their brother.[1]
Physical appearance
Mimasaka was known for her youthful appearance, even at age thirty-eight. Akira, in fact, had to correct Tsukushi when she mistook her for an older sister. Mimasaka's face was round and smooth, which framed her bright eyes and small nose. She had long, wavy hair which she usually wore half-up. Her clothes were tended to be traditional feminine clothing, such as long, billowy dresses with frills and lace. Additionally, her ears were pierced though she did not wear much jewelry.
Personality and traits
For the most part, she was a cheerful, kind person though her personality was notably childish. This often resulted in Akira taking care of her instead of the other way around. She tended overreact, such as assuming her husband did not lover when he forgot to call. Mimasaka refused to call him first since that would mean she lost their "love battle." She particularly loved spending time with her twin daughters, whom had similar personalities. Mimasaka's aesthetic in decorations were frills, bunnies, along with architecture inspired by Anne of Green Gables.
Behind the scenes
Character notes
Portrayals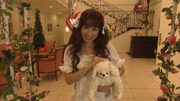 Tomomi Nishimura portrays her in two episodes of Hana Yori Dango Returns (2007).[5] Nishimura has been a fan of the manga since the 1990s, during which she often recommended it on variety shows.[6] Like in the manga, Tsukushi and Yuki Matsuoka confuse Akira's mother to be his older sister. Her love for traditionally feminine things is also shown, including her frilly dresses and pink decorations. She has a brief cameo with her daughters in the final episode during the end credits.
Appearances
Boys Over Flowers
Volume 1
Volume 2
Volume 3
Volume 4
Volume 5
Volume 6
Volume 7
Volume 8
Volume 9
Volume 10
Volume 11
Volume 12
Volume 13
Volume 14
Volume 16
Volume 17
Volume 18
Volume 19
Volume 20
Volume 21
Volume 22
Volume 23
Volume 24
Volume 25
Volume 28
Volume 29
Volume 30
Volume 31
Volume 32
Volume 33
Volume 34
Volume 35
Jewelry Box
Other
Boys Over Flowers Season 2
Volume 1
Volume 2
Volume 3
Volume 4
Volume 5
Volume 6
Volume 7
Volume 8
Volume 9
Volume 11
Volume 12
Volume 13
Volume 14
Volume 15
References
See also