The title of this article is conjectural. Although it is based on canonical information, the actual name is conjecture and may be supplanted at any time by additional information.
Mimasaka (美作, Mimasaka) was the owner of a trading company. He was married to his wife, with whom he had Akira, Emu and Memu.
Biography
Mimasaka owned a successful comprehensive trading company. His work often took him overseas. He was married to his wife whom gave birth to their first child, Akira, at age twenty. They later had twins, Emu and Memu.[1] Occasionally, his wife and children came along on his trips overseas.[2]
Behind the scenes
Character notes
Portrayals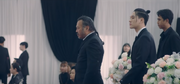 MJ's (Akira) father is played by an unknown actor in the ninth episode of F4 Thailand: Boys Over Flowers (2022). Like the Japanese drama, he is a high-ranking mafia member though this is not widely known by the Thai public. He is seen with his son paying his respects at Pakorn's funeral. It is possible that he is unmarried as he is the only one of the F4's fathers seen by himself.
Appearances
Boys Over Flowers
Volume 1
Volume 2
Volume 3
Volume 4
Volume 5
Volume 6
Volume 7
Volume 8
Volume 9
Volume 10
Volume 11
Volume 12
Volume 13
Volume 14
Volume 16
Volume 17
Volume 18
Volume 19
Volume 20
Volume 21
Volume 22
Volume 23
Volume 24
Volume 25
Volume 27
Volume 28
Volume 30
Volume 31
Volume 32
Volume 33
Volume 34
Jewelry Box
Other
Boys Over Flowers Season 2
Volume 1
Volume 2
Volume 3
Volume 4
Volume 5
Volume 6
Volume 7
Volume 8
Volume 9
Volume 11
Volume 12
Volume 13
Volume 14
Volume 15
References
See also