"Ai, Cun Zai" (Chinese: 爱,存在; pinyin: Ài, Cún Zài)[2] is a song performed by Chinese artist Kiki Wei. It was released on July 23, 2018 by Earth Group. The song served as the ending theme to the 2018 drama, Meteor Garden.
Background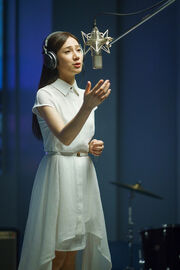 Kiki Wei (魏奇奇; Wèi Qíqí) was chosen to sing "Ai, Cun Zai," the ending theme for Meteor Garden (2018).[3] It was her first recorded song.[4] She performed it in public at a press conference for Meteor Garden on July 5, 2018.[5] A music video for "Ai, Cun Zai" was released in August 2018.[6][7]
The song was also included in the soundtrack to the series.[8]
Staff
Lyrics: Wu Yi Wei
Composition: Cai Ming Ren
Arrangement: Yuan Wei Xiang
Producer: Jamie Hsueh
Lyrics
雨季总会忘了离开
打落蔷薇每次盛开
我们激动争吵相拥 相爱
想念每一次落单 你的温柔让心跳 崇拜
我要的爱 只在你身上存在
要不是你 不会哭得笑得傻得 像小孩
在一起 不简单 别轻易 说分开
你给的爱 都变成我的依赖
依赖着你的我 可以尽情不勇敢
因为你 我相信 爱存在
In your eyes In your eyes In my life
我明白 我期待 爱存在
如果爱是场最轰烈的冒险
终点是暖手的口袋
星星孤单单坠落在 那片海
是你打捞起我们 把每滴坏的眼泪 擦干
我要的爱 只在你身上存在
要不是你 不会哭得笑得傻得 像小孩
在一起 不简单 别轻易 说分开
你给的爱 都变成我的依赖
依赖著你的我 可以尽情不勇敢
因为你 我相信 爱存在
Oh~
就算能删除记忆
就算能复制情感
谁都无法控制爱
一旦决定爱你 我不管 我不换
你就是 任谁都 无法 替代
Yeah~
我的最爱 只在你身上存在
只有你在 极光才有力量变得更绚烂
只有你 能幸福 我回忆 到未来
你给的爱 都变成我的依赖
依赖著你的我 可以尽情不勇敢
因为你 我相信 爱存在
In your eyes In your eyes In my life
我明白 我期待 爱存在
Yuji zong hui wangle likai
Da luo qiangwei mei ci shengkai
Women jidong zhengchao xiang yong xiangai
Xiangnian mei yici luo dan
Wo yao de ai zhi zai ni shenshang cunzai
Yao bushi ni bu hui ku de xiao de sha de xiang xiaohai
Zai yiqi bu jiandan bie qingyi shuo fenkai
Ni gei de ai dou biancheng wo de yilai
Yilaizhe ni de wo keyi jinqing bu yonggan
Yinwei ni wo xiangxin ai cunzai
In your eyes in your eyes in my life
Wo mingbai wo qidai ai cunzai
Ruguo ai shi chang zui hong lie de maoxian
Zhongdian shi nuan, shou de, koudai
Xingxing gudan dan zhuiluo zai na pian hai
Shi ni dalao qi women ba mei di huai de yanlei ca gan
Wo yao de ai zhi zai ni shenshang cunzai
Yao bushi ni bu hui ku de xiao de sha de xiang xiaohai
Zai yiqi bu jiandan bie qingyi shuo fenkai
Ni gei de ai dou biancheng wo de yilai
Yilaizhe ni de wo keyi jinqing bu yonggan
Yinwei ni wo xiangxin ai cunzai
Oh
Jiusuan neng shanchu jiyi
Jiusuan neng fuzhi qinggan
Shei dou wufa kongzhi ai
Yidan jueding ai ni wo buguan wo bu huan
Ni jiushi ren shui dou wufa tidai
Yeah
Wo de zui ai zhi zai ni shenshang cunzai
Zhiyou ni zai jiguang cai you liliang bian de geng xuanlan
Zhiyou ni neng xingfu wo huiyi dao weilai
Ni gei de ai dou biancheng wo de yilai
Yilaizhe ni de wo keyi jinqing bu yonggan
Yinwei ni wo xiangxin ai cunzai
In your eyes in your eyes in my life
Wo mingbai wo qidai ai cunzai
Listen
YouTube
Spotify
References
See also